This iconic resort in Northern Finland is in the heart of Lapland and is undoubtedly one of the best places to experience the incredible northern lights in a stunning Lapland glass igloo. Kakslauttanen Arctic Resort has a number of different accommodation choices and you can also take part in some extraordinarily fun activities, from husky riding to aurora hunting.
The resort is also beautiful to visit during the summer months. Explore incredible forests and beautiful lakes as the country's natural beauty comes to life and you find yourself experiencing the midnight sun. A short flight from Helsinki, you'll need to get to Ivalo airport – something we can arrange for you. We encourage combining your trip to Lapland with a few nights in the Finnish capital Helsinki.
Prices start from £1595 per person for three nights excluding flights. Excursions are optional extras.
Highlights
Cost Category: Gold

Glass igloo accommodation
Winter and summer destination
Ideal for Northern Lights
Plenty of activities
Half Board
Home of Santa
More Information
Activities
There are plenty of activities to be done at Kakslauttanen. From husky rides to meeting Santa as well as experiencing the incredible Northern Lights, this resort is a once in a lifetime bucket list experience.
Husky Sledding
Venture out into the forests and enjoy either a 2-hour or 4-hour husky ride. You will be provided with warm clothes and boots along with a hot beverage. There are two husky farms right by Kakslauttanen. You'll get the hang of it in no time. There are no engines involved. All you'll hear is the whooshing of the snow under the ice and the focused breathing of the huskies.
Reindeer Sledding
Get in the festive spirit and go on a reindeer safari ride. Again all clothing will be provided along with a hot drink at the end. This is a traditional method of transport for the Sami people. You'll be hosted by local reindeer herders.
Ice Fishing
Get a feel for the Nordic lifestyle and go on an all-day ice fishing adventure. You'll be fishing on Lake Inari with a local guide. Lunch will be prepared over an open fire. You'll then hop on a snowmobile, head into the wilderness visit a church and a museum dedicated to the Sami people.
Aurora Hunting
Chase the Northern Lights on a husky or reindeer-driven sleigh. This is guaranteed to be an unforgettable experience. It's one of the world's greatest natural phenomenons. Although visibility cannot be guaranteed – as we don't control the weather – Kakslauttanen is as good a location as you're likely to find.
Canoeing In The Wilderness 
Paddling down the Ivalo River in a canoe you'll be surrounded by wilderness. When it's time for lunch over an open fire your guide will tell you stories about the local area. Ivalo River is also known as the 'river of gold' as gold was found here during the Lapland gold rush.
Santa's Home
A trip to Lapland wouldn't be complete without paying a visit to its most famous inhabitant. The admittedly fictional character, Father Christmas. Flanked by his little helpers, he awaits you in his reindeer-driven sleigh.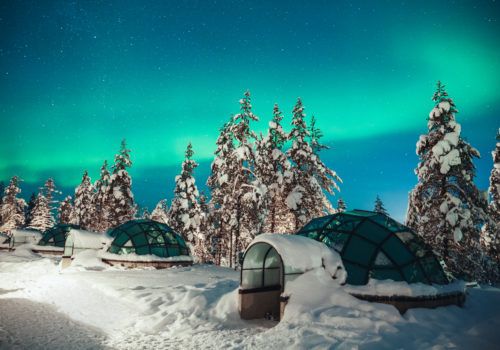 About The Resort
Fly into Ivalo airport where you will be met by a representative who will then transfer you by car to the resort. You can travel to the resort by husky sled as well!
One of the best places to watch the Northern Lights, the Lapland glass igloo hotel is one of our favourite resorts for immersing yourself in nature in Northern Finland. Sleep under the Northern Lights as you enjoy the wide range of activities the property has to offer. For kids it's the ideal place for a Lapland Santa visit and to jump on a Lapland husky ride.
The property is located 250 kilometres north of the Arctic Circle. Located on the edge of the wilderness, it's just a short way from one of Finland's largest national parks. The fresh air will allow you to reset from your busy life. Founded in 1973, the resort was started by a man name Jussi who was on a fishing trip and on his drive back home he ran out of fuel. He had to set up camp where he stood and he fell in love with the place and year after year he has grown the property to its now iconic status. Jussi is still very much at the heart of the resort and is on hand to meet visitors. And he's a lovely guy too!