France is one of the most visited countries in the world for a reason. It has a bit of everything, from gay Paris, to the French Riviera to the medieval charms of Normandy. You can spend a lifetime exploring France. Many people do, as a matter of fact. What's more, France is packed with world-class luxury hotels. From big brands like The Ritz to smaller boutique wineries, France really does have it all.
The amount of choice on offer can be daunting, but fear not. The Out Of Office Collection is designed to give you a taste of some of the highlights. We clearly outline why we've picked each hotel, from the decor, to the history and of course the location. This should whet your appetite if you're dreaming of France.
Classic Parisian Luxury: Grand Powers
Opened in 1920, the curiously named Grand Powers is a classic Parisian luxury hotel. It's located mere footsteps away from Arc de Triomphe. This hotel has been especially popular with British travellers on their way to the South of France. Recently refurbished, the hotel is modern yet it maintains its old-world charm and many of its original furnishings, such as the original Art Deco chandelier.
All of the rooms are very elegant. You could imagine Greta Garbo or Monroe staying here. The mix of modern and vintage styles works very well. If you're looking to really splash out, you can even get a suite with a terrace overlooking the Eiffel Tower. Be sure to visit the bar and sample the amazing selection of French wines.

Classic Parisian Decadence: Maison Souquet
Paris has done more to shape our sense of decadence than any other city. From yellow books to smokey cabaret bars to high fashion, it's a place that has welcomed and embraced excess. Maison Souquet is a stunning luxury hotel that embodies that kind of excess. It's even located in Pigalle, Paris' red light district.
This hotel is not for everyone. The decors is dark and in some ways quite loud. You could imagine Oscar Wilde staying here and appreciating it though. If you'd like to try something a little different, this intimate hotel decorated by Jacques Garcia is quite an experience. Step into a world of belle époque glamour.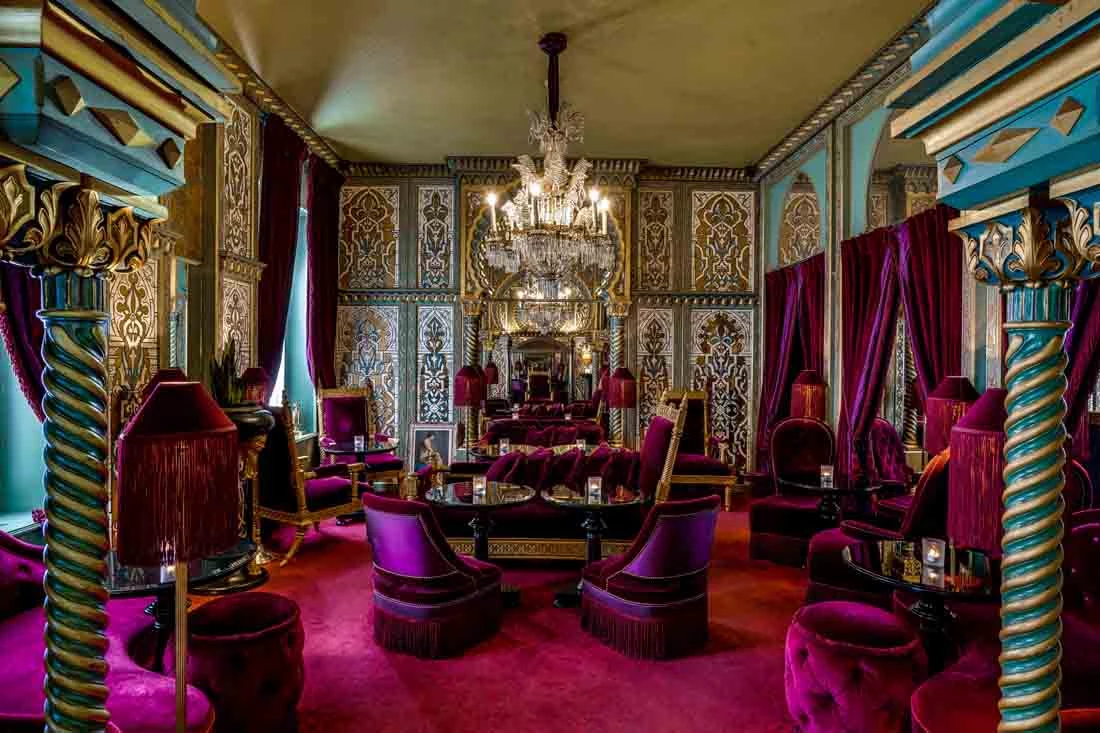 Best in Provence: Chateau de Berne Hotel Lorgues
Chateau de Berne can be found in the deep heart of Provence. On the map it may seem a while away from the bustling coastline of the French Riviera, but it's only an hour in the car to St Tropez. Chateau de Berne is a stunning wine resort – the in-house rose is a must. Set in 2,471 acres of land, stroll through Chateau de Berne's olive groves and forests in between wine tastings.
Experience understated elegance in the classic Provence style. Wine lovers will do especially well here. You can go full-on Eddie and Patsy if the mood takes you. You can combine a trip to Paris with a trip to Chateau de Berne, giving you a taste of the City of Lights and then a more remote, intimate setting.

Best in the French Riviera: Hôtel Martinez, Cannes
Firmly established as one of France's finest luxury hotels, Hôtel Martinez is an Art Deco masterpiece. Modernised by Pierre-Yves Rochon, it's a hotel of historic significance. Naturally, Cannes attracts the glitterati every year for the film festival. Hôtel Martinez is the place to be in peak season. It's home to the only two-star Michelin restaurant in Cannes. The hotel is located in La Croisette, the most exclusive enclave of Cannes.
The hotel is now part of the Unbound Collection by Hyatt. It's a great place to stay if you'd like to experience a classic French hotel. This hotel embodies the essence of the French Riviera in many ways.

The Best in Bordeaux: InterContinental Bordeaux - Le Grand Hotel, an IHG Hotel
Located in the heart of Bordeaux, InterContinental has been a luxury staple since the 1920s. The building was completed the year the French Revolution broke out. As the ancien regieme fell, this luxury property was not inhabited as a private home as had been intended. The decadent interiors call to mind the glamour of the court of Versaille. Marble surfaces glitter under the light of chandeliers.
If you liked the film Marie Antoinette you'll love InterContinental Bordeaux. The rooms really are fit for a queen – you could imagine her staying here. If history took a different turn she probably would have stayed here. The restaurant was taken over by none other than Gordon Ramsay. Be sure to try the taster menu with wines selected by The Wine Concierges.

We want to ensure you have the best experience with us so we'll keep working on your itinerary until perfect. You will have your own personal dedicated member of our team who will help build the perfect trip for you.
We pride ourselves in the number of clients that are referred to us by our existing customers. Our 5* Trustpilot rating is important to us, so we encourage you to browse our reviews. They speak for themselves and that's why you are in safe hands.