Panorama Glass Lodge offers luxury accommodation in Iceland by the sea. This is one of the best places to see the Northern Lights. It's located in Hvalfjordur. Ever wanted to stay in a glass igloo under the stars in Scandinavia? This is the place to go if you want to do it in style. The lodges are surrounded by canyons, fjords and Glymur, Iceland's largest waterfall.
The land of the Vikings and Bjork is a major bucket list destination for many. Iceland is a small country with a tiny population. It's nonetheless home to some of Europe's most beautiful landscapes. There's no other country on earth quite like Iceland. It truly is a unique place. Panorama Glass Lodge is one of our favourite places to stay. It was opened by a young family from Reykjavic and its proved to be a very popular, especially for romantic trips.
Call our travel experts on
+44 (0)20 7157 1570
Highlights
Cost Category: Gold

Fall asleep under the Northern Lights.
Luxury Scandinavian lodges.
Ideal for honeymoons.
Room Options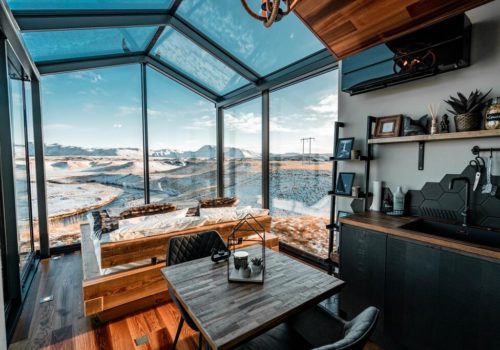 Freya
This Lodge is named after the nordic goddess of love, Freya. It's a luxury glass cabin on Iceland's south coast. It's around a 1h40min journey by car from Reykjavík. The property offers direct views of the Volcano Hekla, the surrounding mountains and river. There's a private bathroom and outdoor hot pool and a terrace.
Accomodates: 2
Beds: 1 King
Size: 22sqm
Location: South Iceland
Alva
Right by the Golden Circle, this is a great base from which to explore the landscapes of Iceland. The lodge is very private and ideal for a romantic trip. There's a custom made king-size bed is in the middle of the glass house – you'll go to sleep at night with the most incredible view overhead. Side curtains are available, if you'd like to block out some light. But then again you probably won't want to miss the Northern Lights.
Accomodates: 2
Beds: 1 King
Size: 22sqm
Location: South Iceland
Sounds good? Call our travel experts:
+44 (0)20 7157 1570
More Information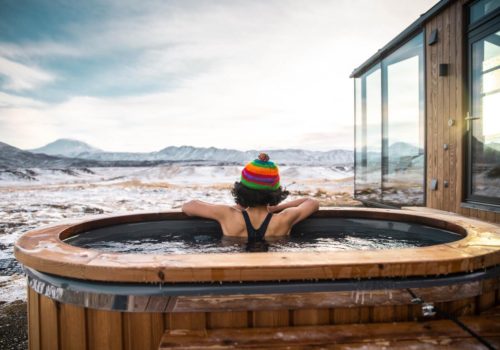 Further Information
All the lodges come with a full kitchen, Nespresso machines and an outdoor terrace. This really is a luxury getaway. A limited number of lodges have been built on a huge plot of land. The design of the Lodges is inspired by Scandinavian aesthetics, combining wooden elements with steel and glass makes the Lodges unique. The interior is completely custom made whereby right down to the finer details.
As this isn't technically a Hotel there is no reception or any staff on site. It is self check-in and check-out and one housekeeping staff is only on site between 11:00 and 15:00. It's strongly recommended you arrive at the property before it gets dark in winter – Icelandic winters can be very dark but also incredibly atmospheric.