Longitude 131 is one of the finest luxury hotels in Australia. It's located in the dramatic setting of Uluru by Kata Tjuta National Park in Australia's Northern Territory. The red stone of Uluru looks like the surface of Mars.
You can join guided tours and discover the vivid colours of this desert landscape. The colours change from purple to orange and red. You'll struggle to find a more Instagrammable setting. Longitude 131 is one of the few places where you can experience luxury in the wilderness. This will be the most unforgettable glamping experience you'll ever have.
Call our travel experts on
+44 (0)20 7157 1570
Highlights
Cost Category: Platinum

Luxury glamping in Uluru
Dramatic desert landscape
World-class cuisine
Free guided tours
Bucket list experience
Room Options
Accomodation
There are 16 luxury tented pavilions. You'll wake up to the sprawling expanse of Uluru and see the light play through your window. Step onto the terrace and experience the seclusion and drama of this otherworldly landscape.
All suites have king-size beds, large bathrooms, private balconies, WiFi, premium toiletries and twice-daily housekeeping. In the evening, enjoy a drink under the stars beside a roaring fire.
The floor-to-ceiling windows ensure you'll have the best possible views. Staying at Longitude 101 is a great bucket list experience.
Sounds good? Call our travel experts:
+44 (0)20 7157 1570
More Information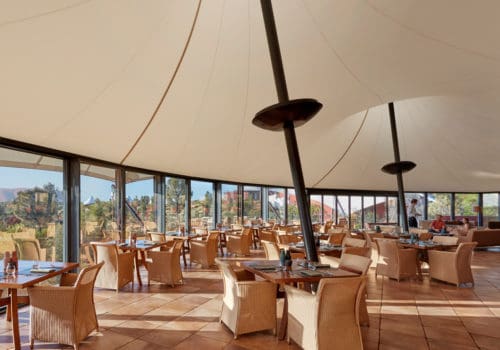 Food And Drink
Chef Matthias Beer is credited with serving up some of the finest food in Australia at Longitude 131. All of the food is sourced locally. Surrounded by panoramic views of Uluru, you'll dine on dishes like Australian king prawns and kangaroo filet. Service in 24/7.