This beautiful 5-star resort is located right on the beachfront giving you breathtaking ocean views. The accommodation options are stunning, with a chic modern interior but still in keeping with the traditional Mauritian style. You'll find a wide range of treatments offered at the wonderful spa, meaning there is something for everyone. From traditional Mauritian massages to holistic life coaching. Top that off with the selection of fine restaurants at Shanti Maurice which mean you'll always have a varied dining experience. 
Highlights
Cost Category: Gold

Stunning intimate accommodation
Incredible beach views
Gourmet dining
Spa
Room Options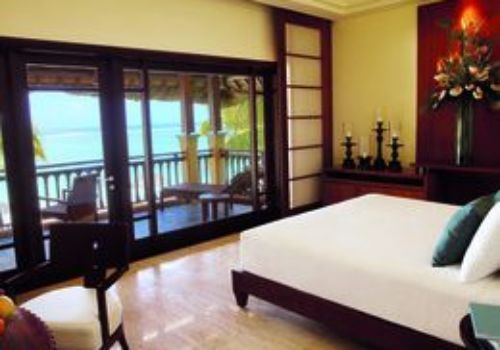 Junior Suite
These ocean facing villas include a beautiful king size bed (or twin beds), and a stunning en-suite bathroom finished to a very high standard. The bathroom contains a large bathtub and separate shower. Outside, you can enjoy a private terrace and balcony area.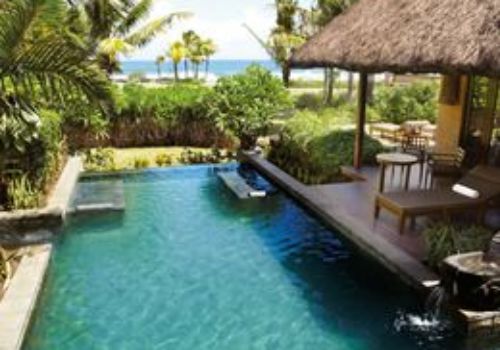 Luxury Villas
These villas give you even more space. Enjoy the beautiful bedroom and king size bed. The bathroom is sleek and elegant. Outside, enjoy your very own private pool and decking area, which is shielded by tropical gardens giving you some privacy.
Luxury Suite Villa
With the added bonus of a large living area, these villas have plenty of space both inside and outside for you to relax in. Outside is your very own swimming pool, with plenty of decking area and sun loungers.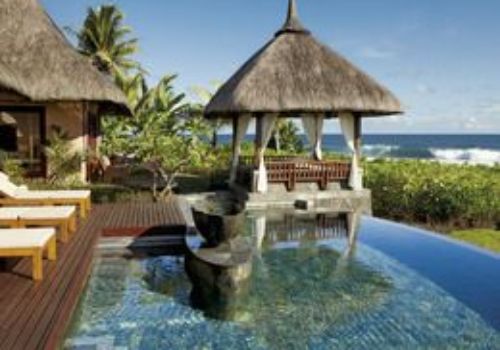 Two Bedroom Suite Villas
Perfect if you are a small group or family as there are two bedrooms and two bathrooms in the villa. With a separate living area, there is plenty of space for you to relax in. These villas also include a private swimming pool for you to enjoy and plenty of outdoor lounge space.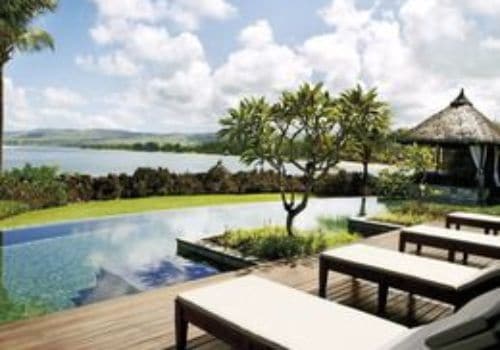 Shanti Villas
If you are seeking ultimate seclusion and intimacy, then you won't find it anywhere else. The Shanti villas tick all the boxes and are sure to make your stay very enjoyable. The interior is designed with a traditional theme but finished to an impeccable standard. The two bedrooms have en-suite bathrooms and the spacious open-plan living area will make your stay very comfortable. The swimming pool has a built in Jacuzzi for you to enjoy and the spacious outdoor terrace is the perfect place to sit and enjoy a delicious lunch.
More Information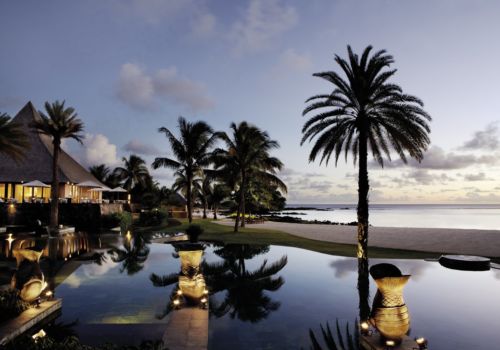 Food And Drink
Stars 
This restaurant uses the freshest ingredients to prepare exquisite dishes. Enjoy your evening meal with a view of the starlit Indian Ocean.
Fish Shack 
Offering the most authentic restaurant in the resort, dine here and enjoy the wide selection of fresh meat and fish dishes. Dine under the stars and watch the incredible Sega dancers perform for you during your meal.
Red Ginger Lounge 
Perfect for a casual lunchtime drink or an evening cocktail. The bar also serves alfresco and indoor dining options.
Picnics 
The chefs will create you a delicious picnic which you can take with you and dine amongst the tropical gardens.
La Kazme Mama 
Dine here for an authentic Mauritian home cooking experience. The fusion of old and new flavours creates a unique dining experience.
Spa
Awaken your senses and immerse yourself in a whole new world. The Spa at Shanti Maurice offers a wide selection of treatments including traditional Mauritian massages, facials and a holistic bio experience.
The spa also offers holistic life coaching which aims to give you a positive outlook on life and will teach you re-energising exercises.