Discover the magic and mystery of the African bush from the comfort of a luxury safari lodge. Pursuing the Big Five on a game drive is one of the great bucket list experiences. If you're planning the perfect safari, choosing the right lodge and the right location is key to making your trip a success.
We've sent many Out Of Office travellers on safaris over the years. Naturally, we only work with the most gay-friendly hotels and safari lodges in Africa. Our Out Of Office Safari Collection gives you the lowdown on the best properties currently available.
We cover safari lodges in South Africa, from the Garden Route to the famous Kruger National Park. The latter is certainly the most famous safari destination in Africa. Kruger National Park is vast – around the same size as Israel, to put things in perspective.
We also cover Tanzania and the Serengeti, home to the most diverse concentration of game in all of Africa.
LGBT rights in South Africa
Homosexuality is regarded as a complex issue in much of Africa, but in South Africa it's far easier. South Africa is the unofficial gay capital of Africa and you'll find Africa's biggest LGBTQ+ community in Cape Town.
Sabi Sands Game Reserve
Sabi Sands Game Reserve gives you the classic South African safari experience at Kruger National Park. This is one of the most stylish and luxurious game lodges. Meals and game drives are included in the price. You'll be guided by an expert ranger and learn about the magic and mystery of the African bush.
There's a range of lodges to choose from reflecting different styles. Chitwa Chitwa blends African design with a European twist. This lodge overlooks one of the biggest lakes in Sabi Sand. You might see wildlife drinking from the lake as you unwind on your private deck. Alternatively, Londolozi Game Reserve is family-run and a big draw for eco-tourists. There are five luxury lodges to choose from. The Pioneer Camp is the most private and it can host up to 14 guests.
Sabi Sands is the oldest game reserve in South Africa. If you've never been on safari in Africa before then this is always a safe bet.
View Sabi Sands

Gondwana Game Reserve
Located right in the hear of the Garden Route you'll find Gondwana Game Reserve. This reserve is close to Cape Town and located in an 11,000-hectare Private Game Park. The Big 5 roam free here and you'll be surrounded by dramatic mountain views. The reserve is covered in Fynbos vegetation that illuminates the surrounding valleys. The luxury suites are nestled within the verdant surroundings.
The lodges on offer are next level. The Kwena Lodge is based on classic Khoi-San dwellings and it comes with an infinity pool. The Bush Villas are very spacious and ideal if you're travelling in a larger group – they come with two to four bedrooms.
For a full conservation experience you can stay at the Tented Eco Camp. Stay in a luxury eco-friendly bush camp, learn about wildlife magaement and enjoy game drives and lunches in the bush.
View Gondwana Game Reserve

Lemala
If you'd like to explore The Serengeti National Park then the Lemala properties are a great choice. They're spread all over the Serengeti and include premium luxury lodges. The Serengeti may well be home to the world's finest array of wildlife. You'll find the best concentration of game in all of Africa.
The Lemala lodges cover much of the Northern Circuit. Some of the highlights include Wild Waters Lodge. It's mid-stream on the Nile on its own private island. You'll arrive at the island by helicopter or canoe. Waking up by the River Nile every morning will be an unforgettable experience.
Lemala Nanyukie is one of the more recent additions to the Lemala portfolio. It's located in the Serengeti National Park in Eastern Serengeti, right in the heart of Africa.
View Lemala

Thornybush Game Lodge
Thornybush has a collection of game lodges on its own private reserve in Sabi Sand and Thornybush Nature Reserve in Kruger Park. It borders Kruger Park – the animals are able to pass between the two. Thornybush has many highly knowledgeable guides who will show you the extraordinary wildlife in the Greater Kruger Park area.
It all comes down to what type of safari experience you'd like to have. They can offer Big Five safaris, romantic safaris, solo safaris and wellness safaris. The lodges are all very impressive. You can stay in a luxury tented camp, a game lodge or a villa. Thornybush emerged as one of the first private game reserves in 1955. They oversaw the translocation of a herd of elephants from Kruger, later introducing cheetah and black rhino.
View Thornybush Game Lodge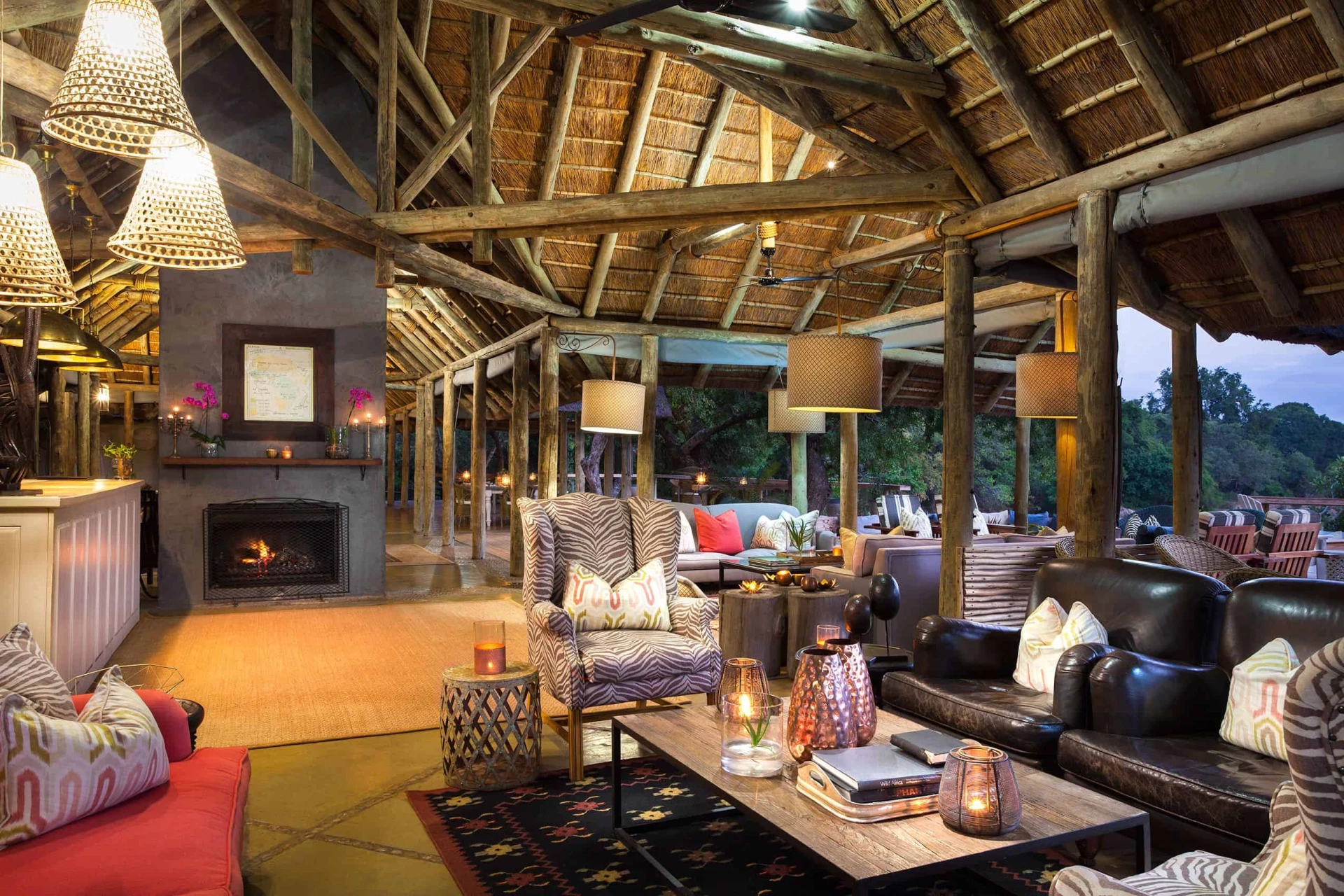 Royal Malewane
Royal Malewane is the big highlight at Thornybush. It's next-level luxury and it has excellent all-inclusive options. There are eight suites featuring classic African design influences with a colonial twist. You'll have a private plunge pool on your deck. You might see wildlife roaming around as you recline in the tub. This is also a great way to wash off the dust after your game treks.
If you'd like to take the luxury to another level and you have a larger group, Africa House is a six-bedroom villa with a private chef. You can unwind at the bush spa and even pump some iron at the gym (if all the game trekking doesn't give you enough action).
Safari drives are included. Perhaps the big highlight of Royal Malewane is the guides. They're considered to be among the best in Africa so you'll be in very capable hands when you set out on your safari adventure.

We want to ensure you have the best experience with us so we'll keep working on your itinerary until perfect. You will have your own personal dedicated member of our team who will help build the perfect trip for you.
We pride ourselves in the number of clients that are referred to us by our existing customers. Our 5* Trustpilot rating is important to us, so we encourage you to browse our reviews. They speak for themselves and that's why you are in safe hands.