The Maldives is one of the most stunning holiday destinations. It's a country comprised of over a thousand coral islands in the Indian ocean – only around 200 of them are inhabited. The crystal clear waters and stunning marine life make this such an ideal place for scuba diving.
The Maldives may well be the most beautiful islands you will ever see, but they have only become a tourist attraction in recent decades. Today the Maldives attracts increasingly well-off travellers, and you will find wonderful restaurants, hotels and top quality service as a result.
On this sailing trip, you'll travel around the various islands on a yacht. You'll have plenty of chances to scuba dive, enjoy luxury spa treatments and to wine and dine on the beautiful islands. With over a thousand islands to see, what better way to travel the Maldives than by yacht?
LGBT rights in The Maldives
Despite having problematic laws concerning LGBTQ+ rights, the Maldives is one of Out Of Office's most popular destinations. Due to the geography of the Maldives, each island is essentially run by the resort that occupies it. We work with an incredible selection of resorts, many of which have LGBTQ+ management, that are welcoming to the LGBTQ+ community.
Day 1
When you arrive at the airport you'll be transferred to the main vessel. You'll be allocated a cabin and then enjoy a lunch buffet. You'll be able to reserve any spa treatments that take your fancy. After a welcome dinner at Al Fresco Restaurant, the boat will sail for Coco Palm Bodu Hithi Resort area in North Male Atoll. We'll anchor at 10:30 pm.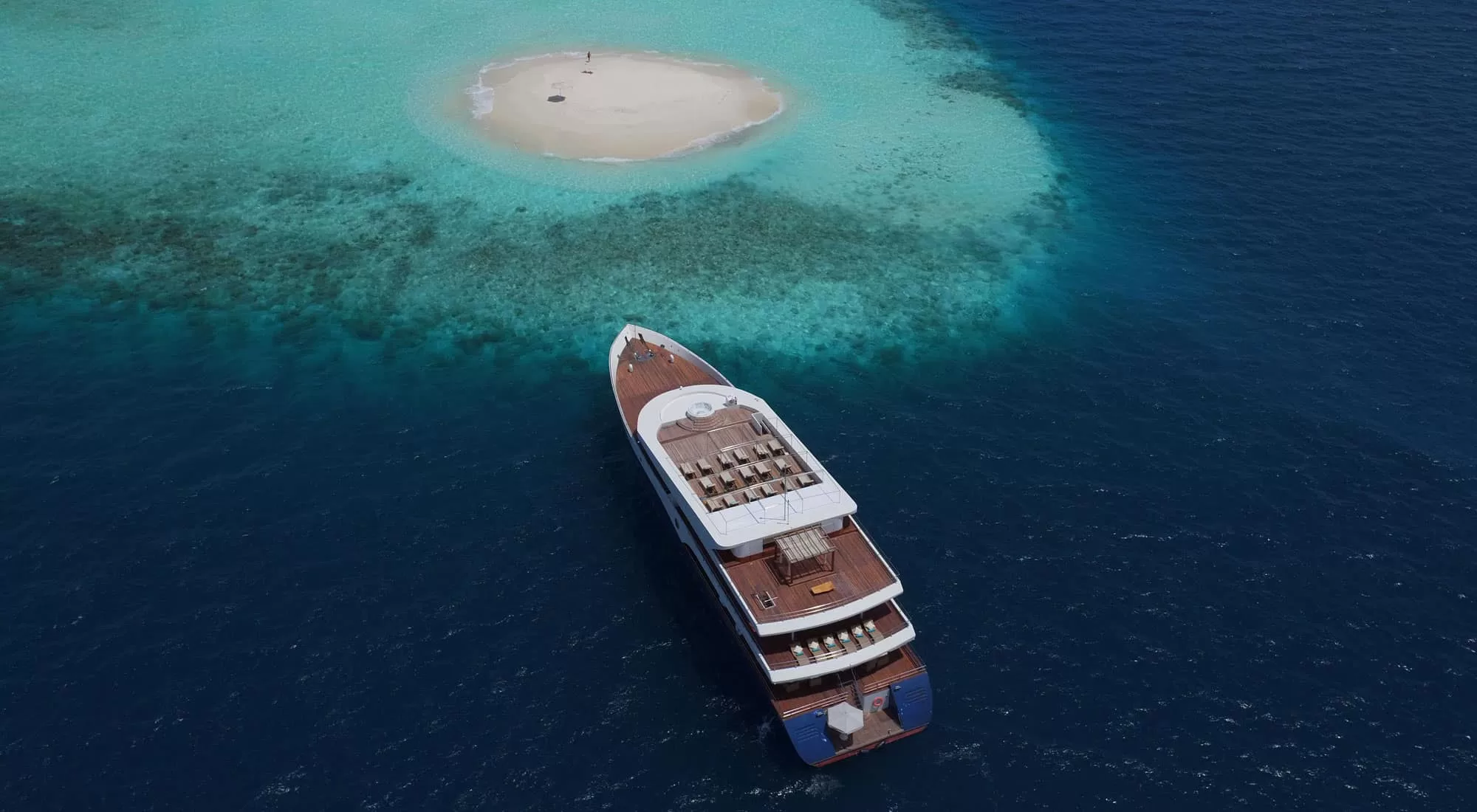 Day 2
At 6am our first dive will take place at Boduhithi Thila. Yoga classes take place a 7am and breakfast begins an hour later. You can then indulge yourself at the spa. The second dive takes place at the Boduhithi Manta Point, before sailing to Rasdhoo Atoll. The third dive will be at Rasdhoo Madivaru Channel, where you can see dogtooth tunas, eagle rays, humphead rasses and leaf fish. We'll enjoy water sports and a beach visit to Madivaru Finolhu. At 7pm we'll have a Sunday Roast Dinner at Al Fresco Restaurant.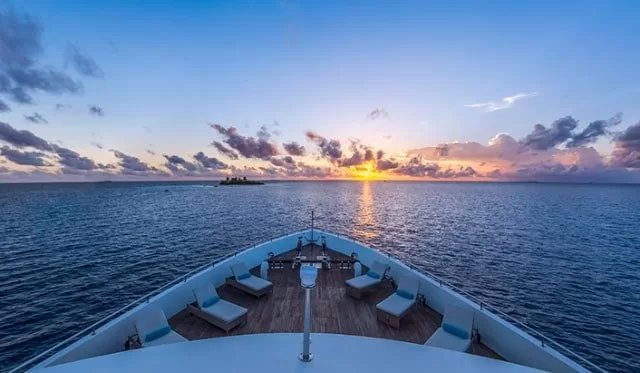 Day 3
If you're up at 5.45 am you can dive at Kuramathi Kandu, one of the last places on earth where you can see Hammerhead sharks! You can then recover from the shock at yoga class and tuck into your breakfast. Our second dive takes place at Rasdhoo Madivaru – keep an eye peeled for manta rays. Sailing onto North Ari Atoll, we'll have our sunset salutation on deck. You can then take a night dive at Maaya Thila, which will no doubt get you in the mood for a surf and turf dinner.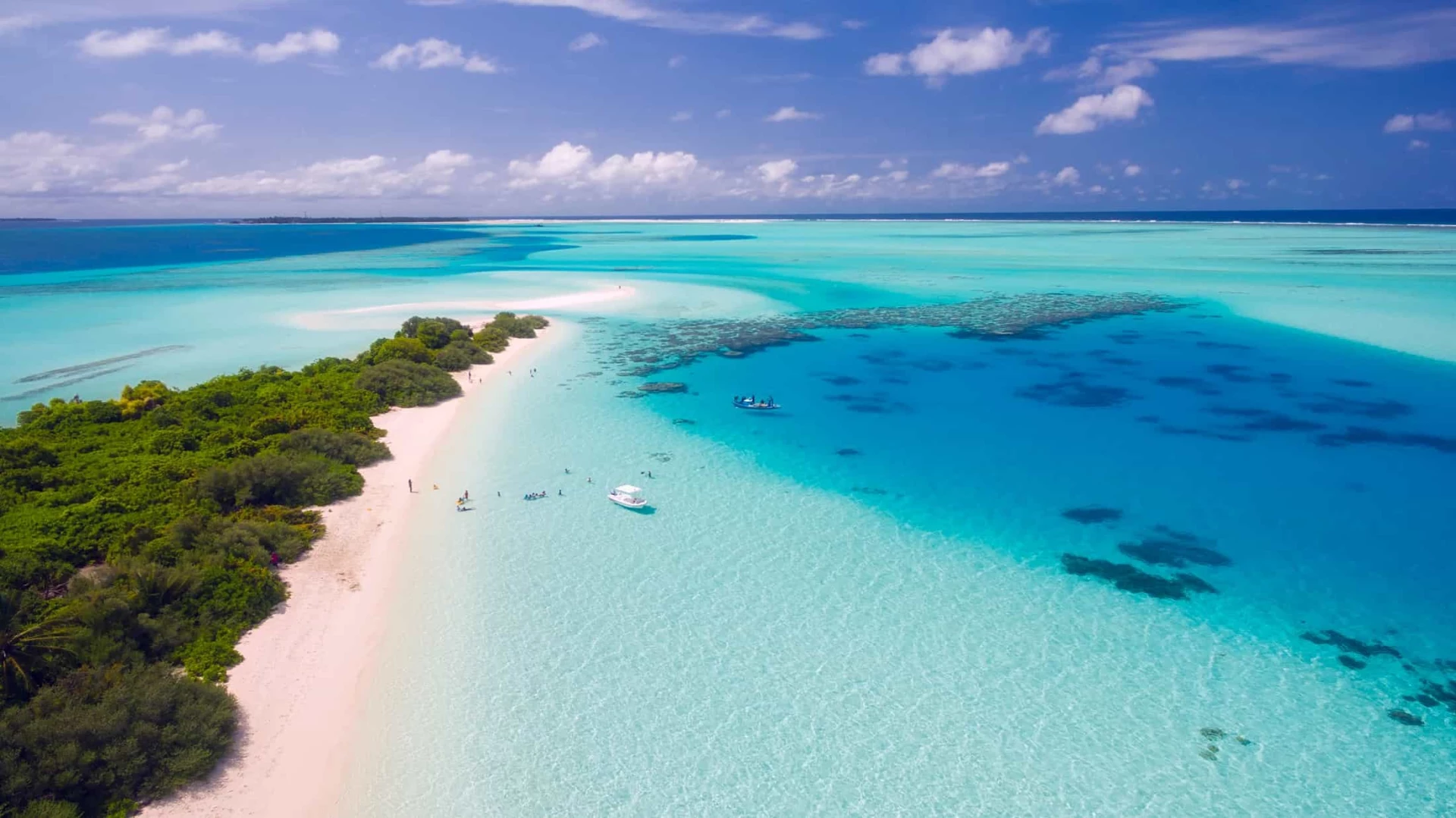 Day 4
Wake up early to dive at Fish Head with sharks – yes, more sharks! Swimming with sharks really is the most bracing way to start the day. Makes you think, woo, I lived to eat breakfast! The spa opens at 9 am and the boat sails for Constance Moofushi Resort area. There'll be time for more snorkelling and watersports. After lunch, we'll sail to Innafushi island. We'll dive in the Bulhalhohi Caves. This will be followed by a moonlight barbeque at Sandy Beach.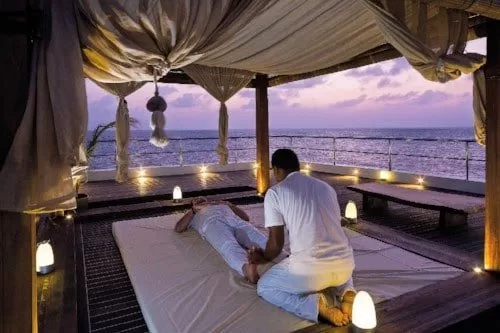 Day 5
After yoga, breakfast and spa treatments, we enter Moby Dick territory. We'll be embarking on a whale research trip! In the evening the boat sails to Dhigurah Lagoon. We'll have a Mexican dinner at Al Fresco Restaurant. At 20:30 we'll have a lecture presentation by the Maldives Whale Shark Research Programme at Spa Deck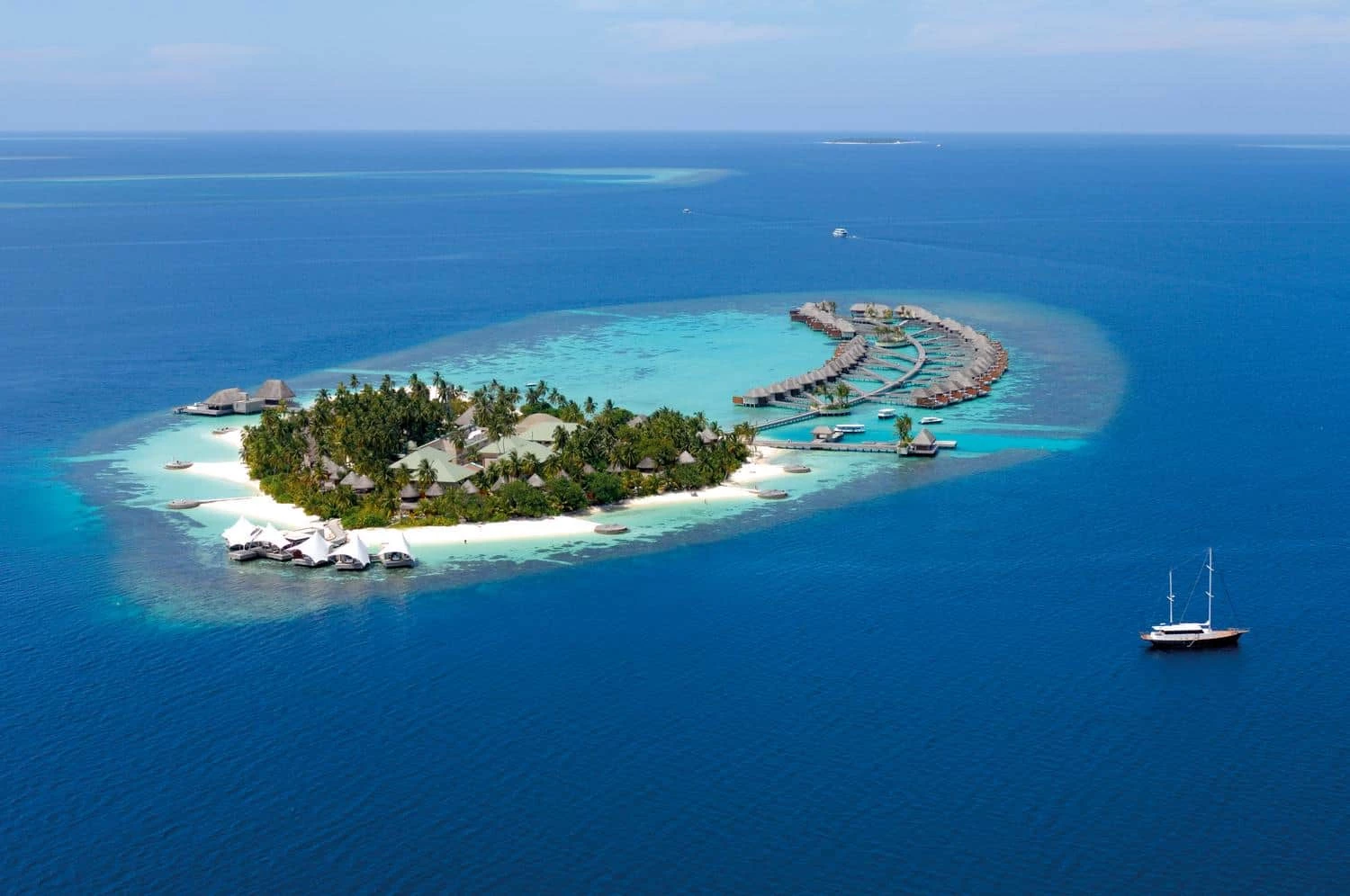 Day 6
Our first dive takes place early at Kudhima Wreck. The second takes place at Broken Rock. We'll have a BBQ lunch at Al Fresco Restaurant and then sail to Alimatha area in Vaavu Atoll. We'll visit the beach at Sand Bank, and then more sharks! Yes, we shall dive at Alimatha House Reef with nurse sharks. We'll enjoy an Italian meal at Al Fresco Restaurant, and then a starry sky movie night on the sun deck.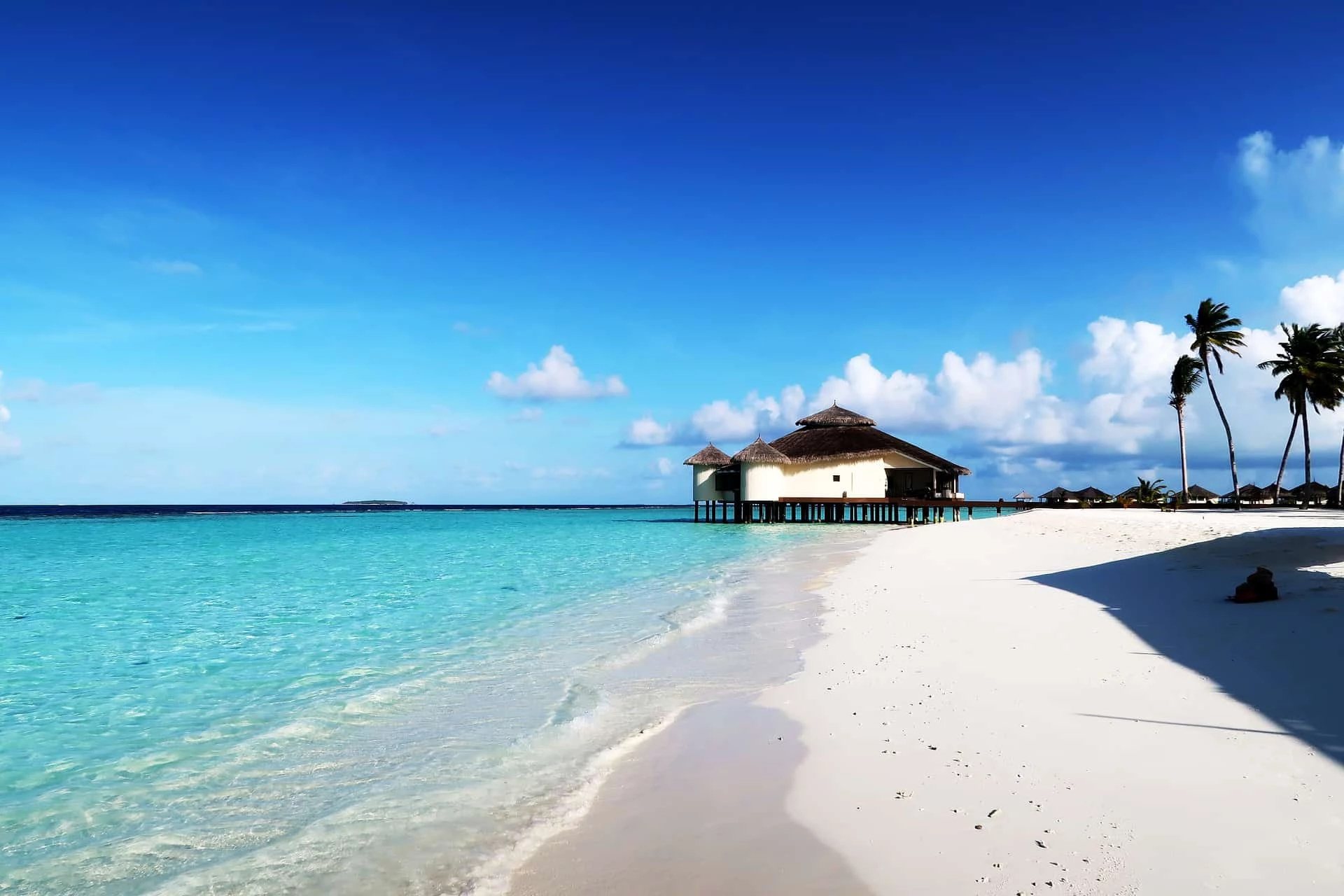 Day 7
Feel free to start your day with sharks at our early dive at Miyaru Kandu. After breakfast the boat sails towards South Male Atoll. After diving and snorkelling, we'll visit the unimprovably named Sexy Beach. When we've had lunch we'll head to Kuda Giri for more diving, and then sail towards Kurumba near Male. Here we'll have a sunset cocktail and a farewell Pan-Asian Dinner at Al Fresco Restaurant.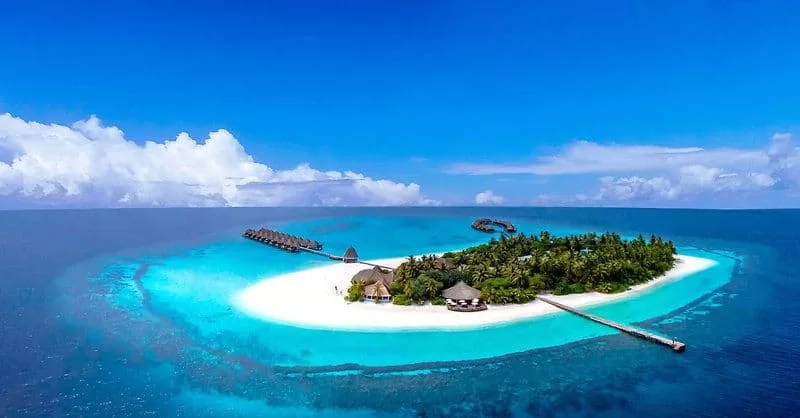 We want to ensure you have the best experience with us so we'll keep working on your itinerary until perfect. You will have your own personal dedicated member of our team who will help build the perfect trip for you.
We pride ourselves in the number of clients that are referred to us by our existing customers. Our 5* Trustpilot rating is important to us, so we encourage you to browse our reviews. They speak for themselves and that's why you are in safe hands.