The hills are certainly alive in Austria, with its iconic mountain villages, alps, vineyards and history all lying in wait for you to discover.
The cultural heritage of Austria is rich and vast, with Mozart, Sigmund Freud and painter Gustav Klimt calling this land of rolling greenery home.
A luxurious and picturesque getaway that could rival no other: bring your friends or your partner, but most of all – bring a camera.
Best Austria Trips
From 9 days - Tailor-made from

£3299

It's the most wonderful time of the year – and so why not join a gay river cruise exploring Europe's Christmas markets? You'll start with two nights in Munich before you enjoy a six-night river cruise on the Danube. Visit...

View Itinerary

From 10 days - Tailor-made from

£3045

Your all gay river cruise begins with two nights hotel and guided sightseeing in Prague, the "Jewel of Eastern Europe." One of Europe's best-preserved cities, Prague's medieval centre remains a beautiful mixture of cobblestone pathways, guilded towers and gothic cathedrals. From...

View Itinerary

From 13 days - Tailor-made from

£4350

Central Europe has been a hub of culture through the millennia and today still holds as much charm, history, beautiful scenery and gorgeous architecture as it ever has done. In this gay group trip, you will visit the capitals cities of...

View Itinerary
All Austria Trips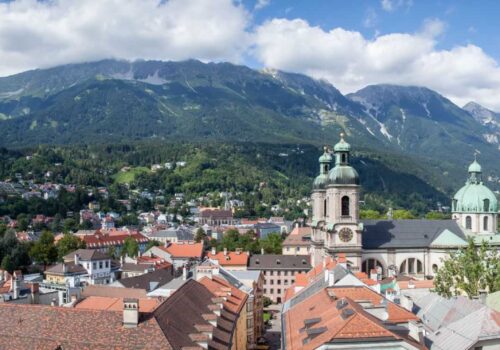 Experience Austria in full in this itinerary which takes you to the heart of the country visiting Vienna, Salzburg and Innsbruck. Characterised by its mountain villages, baroque city architecture, imperial history and rugged alpine terrain, Austria holds stunning beauty. Vienna,...
Best Austria Hotels
From the Blog
Getting to Austria

Vienna is the main airport that people fly to in Austria.
General Information
The green and rolling hills of Austria are so iconic you can see Julie Andrews on a clear day. Following in the footsteps of the Von Trapp Family Singers, you'll be exploring a stunningly beautiful European country that was once part of a great empire.
It cannot be denied that Austria fell into a dark place in the middle of the last century. But it has emerged from the chaos of Europe's past as a rich, modern and dynamic state at the heart of the EU.
What Everyone Does In Austria
A trip to Austria will most likely begin in Vienna, exploring the faded imperial glamour of its streets. The baroque splendour of the Hapsburg era is breathtaking. Efficient public transport makes travelling around Vienna relatively easy. No visit to Vienna is complete without a trip to one of its iconic coffee houses, where you can indulge in a rich coffee and slice of Sachertorte cake.
What Some People Do In Austria
Take a drive West and follow the Danube to the Alpine fastness of Salzkammergut. Here you'll enjoy beautiful scenery, and then you can head to the nearby city of Salzburg, the birthplace of Mozart. This is truly a city of culture. There's so much significant architecture to admire. If you like walking you could hike in the mountains surrounding the city. When you're hungry tuck into a plate of Salzburger Nockerl and wash it down with a cold Salzburg beer. You're right by the German border so you could get a train from Salzburg to Munich in less than two hours.
What No One Else Does In Austria
If you want to go off the beaten track head to the small town of Hallstatt. This rich, picturesque town is quintessentially European. You can also explore the Dachstein Caves and explore the surrounding Alps.