A tropical paradise of peaceful relaxation, with turquoise waters, white sand beaches, and a bounty of luxury resorts, The Islands of Tahiti are one of the most popular destinations for LGBTQ+ honeymoons. You wouldn't know it, however, as the diverse assortment of secluded private islands will allow you and your loved one to enjoy a completely intimate luxury honeymoon. For our LGBTQ+ clients, The Islands of Tahiti are one of the few places where it has never been illegal to be gay, and travelers of all identities should expect to feel welcomed and respected throughout their trip.
With a particular focus on those resorts that offer bespoke honeymoon experiences, this itinerary has been designed to create a stress-free and romantic trip to some of the world's most beautiful island destinations. Along the way you'll stay in three of The Islands of Tahiti's most sumptuous and inspiring resorts, tailoring the entire itinerary to your personal luxury honeymoon desires.
Day 1-3 Tahiti
Intercontinental Tahiti Resort and Spa
Landing in Tahiti you'll have the chance to acclimatize at one of the island's most romantic resorts, the Intercontinental Tahiti Resort and Spa. With countless spa facilities and treatments available, you'll be able to recover from any jet lag before heading off to explore the archipelago.
The Intercontinental takes full advantage of the surrounding natural beauty, with features such as the Lagoonarium; a protected inland lagoon that is home to 10 endangered marine species and offers a unique snorkeling experience. This resort is the ideal intimate introduction to hidden French Polynesia, and with luxury add-ons including a canoe breakfast, you're guaranteed to be instantly enchanted.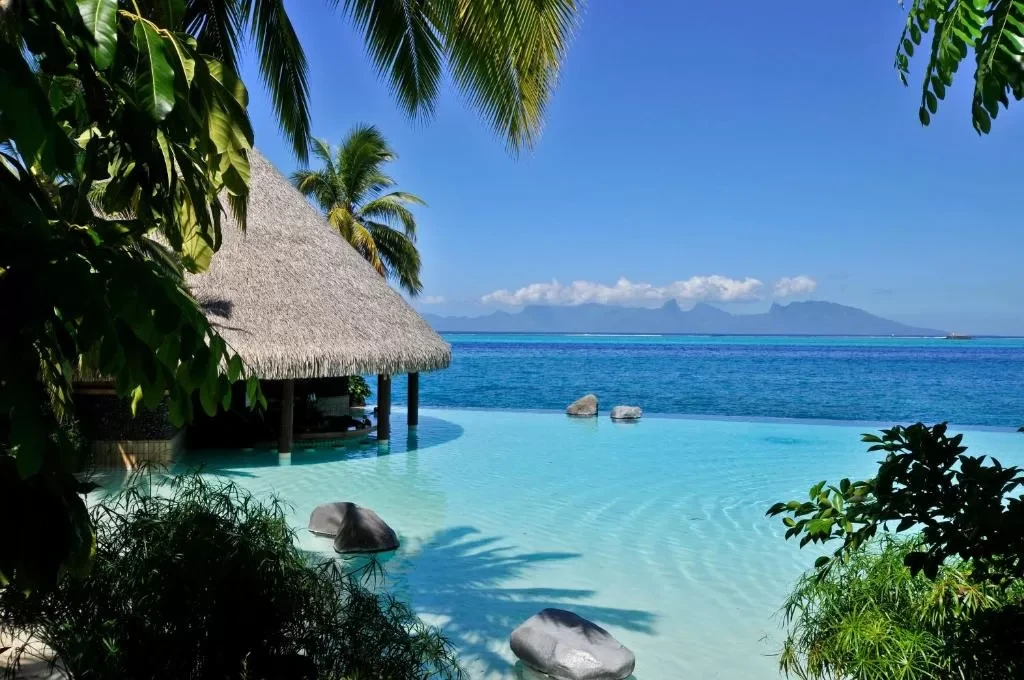 Day 3-6 Mo'orea
Hilton Mo'orea Lagoon Resort and Spa
After a scenic and sun-soaked ferry ride from Tahiti, you'll arrive at your next awe-inspiring destination.
Nestled on the edge of a thriving coral reef, the Hilton Lagoon Resort and Spa is the pinnacle of romantic luxury on the heart-shaped island of Mo'orea. The resort offers a range of secluded accommodations, and with an over-water restaurant, sunrise yoga and a private beach dinner for you and your partner, there is no shortage of truly unforgettable moments to be shared.

Day 6-9 Bora Bora
When it comes to luxury honeymoons on The Islands of Tahiti, nowhere beats the Conrad Bora Bora Nui. Boasting a range of rich and innovatively designed villas and overwater bungalows, the Conrad is the perfect place to spend some secluded time alone with your loved one.
Verdant and providing uninterrupted views across a shimmering turquoise lagoon, the resort is surrounded by an endless stretch of white sand beach. A truly inclusive destination, all couples can enjoy private candle-lit dinners in some of the island's most breathtaking spots.
To finish on a high note, you can enjoy a sunset cruise around the island. Just you, your partner, and a bottle of champagne, this is the ideal way to mark the end of your trip and experience a unique view of Bora Bora's impressive coastline.

We want to ensure you have the best experience with us so we'll keep working on your itinerary until perfect. You will have your own personal dedicated member of our team who will help build the perfect trip for you.
We pride ourselves in the number of clients that are referred to us by our existing customers. Our 5* Trustpilot rating is important to us, so we encourage you to browse our reviews. They speak for themselves and that's why you are in safe hands.