French Polynesia is a French overseas territory comprised of just over 100 islands. It's a tropical paradise and one of the top luxury destinations on earth. The first European travellers believed they'd stumbled upon something resembling heaven on earth. Marlon Brando did too when he helped put French Polynesia on the map in the 1960s.
Being such a remote collection of islands, your flight to French Polynesia might take a while, but it's definitely worth it. You can travel between islands easily too – we recommend an island hopping adventure if it's your first time in this stunning country.
Although many world-class luxury resorts have emerged in French Polynesia over the last five decades, it still feels like a little slice of paradise. You'll find some of the bluest waters on earth in French Polynesia – when they say they resemble Gatorade, it's no exaggeration.
The lagoons surrounding the islands are home to vibrant marine life and coral atolls, ideal for scuba diving and snorkelling. There's also a rich culture to explore here too – music, dancing and art are vital to this community, making way for joyful days spent celebrating life in total utopia.
Bora Bora is where you'll find the best luxury hotels in French Polynesia and most of them offer overwater bungalows: unbeatable for romantic trips. Here's our guide to French Polynesia's finest hotels. We've hand-picked the best hotels in Bora Bora that we receive incredible reviews about time and time again.
Best For Luxury: The St. Regis
Widely considered to be the finest luxury resort in Bora Bora, The St. Regis is ideal for a romantic getaway. A private boat will sail you to your suite or overwater villa. The thatched roof bungalows give you the idyllic overwater experience. You'll have your own butler and 24-hour room service.
The villas have a classic Polynesian quality. The bathrooms give you underwater views of the lagoon. There are multiple dining options, all as high class as you'd expect at a St. Regis resort. Head to Lagoon for Asian-Fusion cuisine.
View St. Regis Bora Bora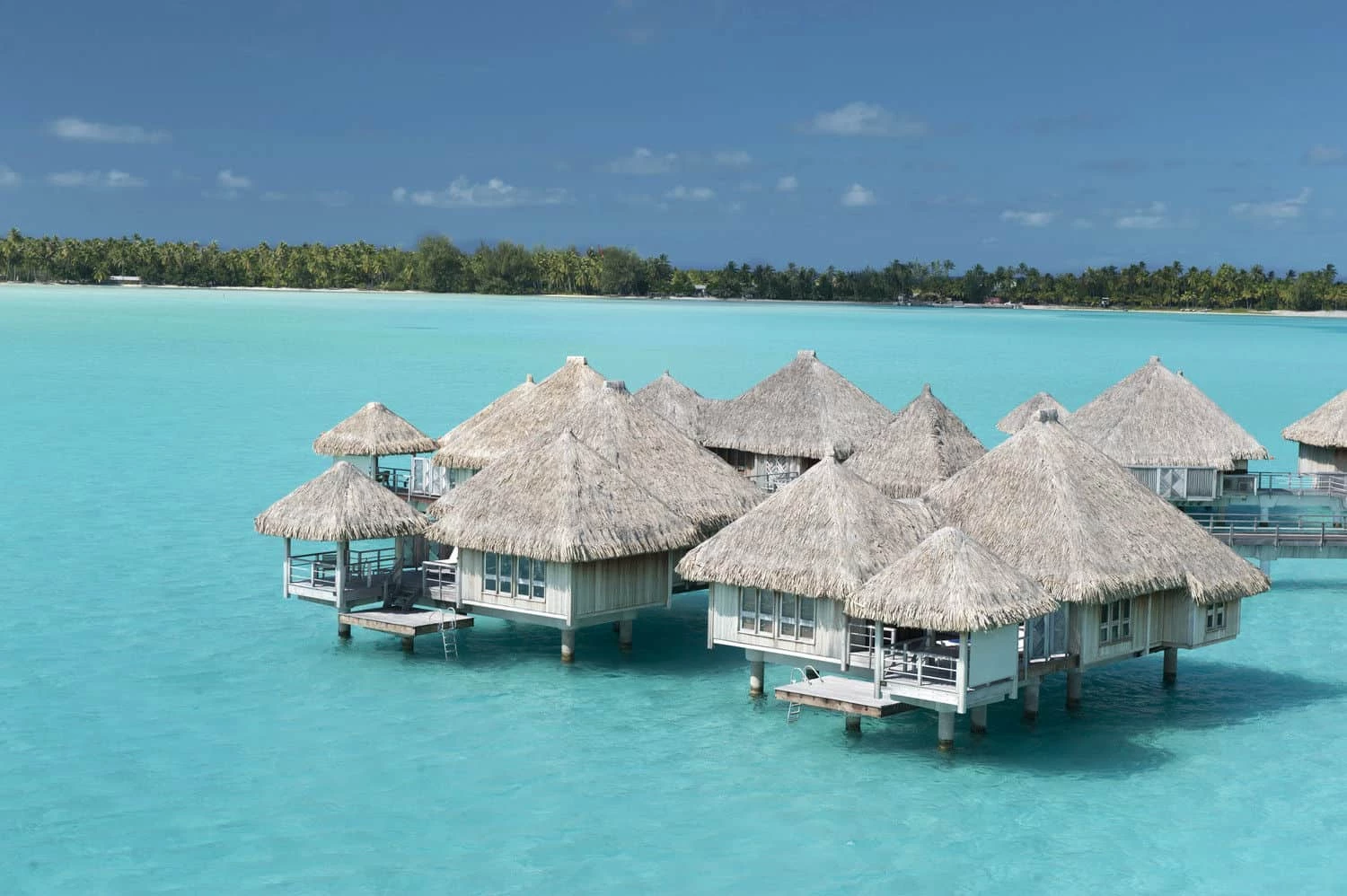 Best For Luxury: InterContinental Bora Bora Resort Thalasso Spa
The InterContinental Thalasso is one of the most popular luxury resorts in Bora Bora for Out Of Office travellers. It was the first hotel in French Polynesia to introduce Sea Water Air Conditioning to keep the villas cool. It was also the first resort to introduce a thalassotherapy spa. Breakfast is brought to your villa each morning by canoe. This is a very stylish and very modern resort.

Best For Overwater Bungalows: Conrad Bora Bora
Conrad Bora Bora is one of the most popular luxury resorts in Bora Bora for Out Of Office travellers. It was the first hotel in French Polynesia to have overwater villas. It's a trend luxury resorts all over the Indian Ocean have continued to follow. Staying in an overwater villas in a tropical paradise is an unbeatable choice for romantic trips. Conrad Bora Bora is the natural home of the overwater villa and we couldn't recommend it highly enough. The bathrooms have huge standalone bathtubs with panoramic windows looking out over the turquoise lagoon.
View Conrad Bora Bora

Best For Value: Le Bora Bora by Pearl Resorts
French Polynesia is one of the world's top luxury destinations. By some measures, it's the top luxury destination. Naturally, it's in the higher price range for flights and accommodation. French Polynesia definitely comes with a price tag. That being said, you can do French Polynesia without breaking the bank. Pearl Beach is an excellent hotel in Bora Bora with overwater bungalows. It's located on Motu Tevairoa, a white sand beach by Bora Bora lagoon. Pearl Beach has undergone an extensive renovation.

Best For Bucket List: The Brando
The Brando is a world renowned hotel on Tetiaroa, Marlon Brando's private island. He never finished building the hotel in his lifetime. This is where Obama came to begin writing his memoirs. It's an endlessly chic hotel; the peak of understated luxury. Unsurprisingly, this hotel comes with quite a price tag. It's a great choice if you're really looking to indulge for a special occasion.
View The Brando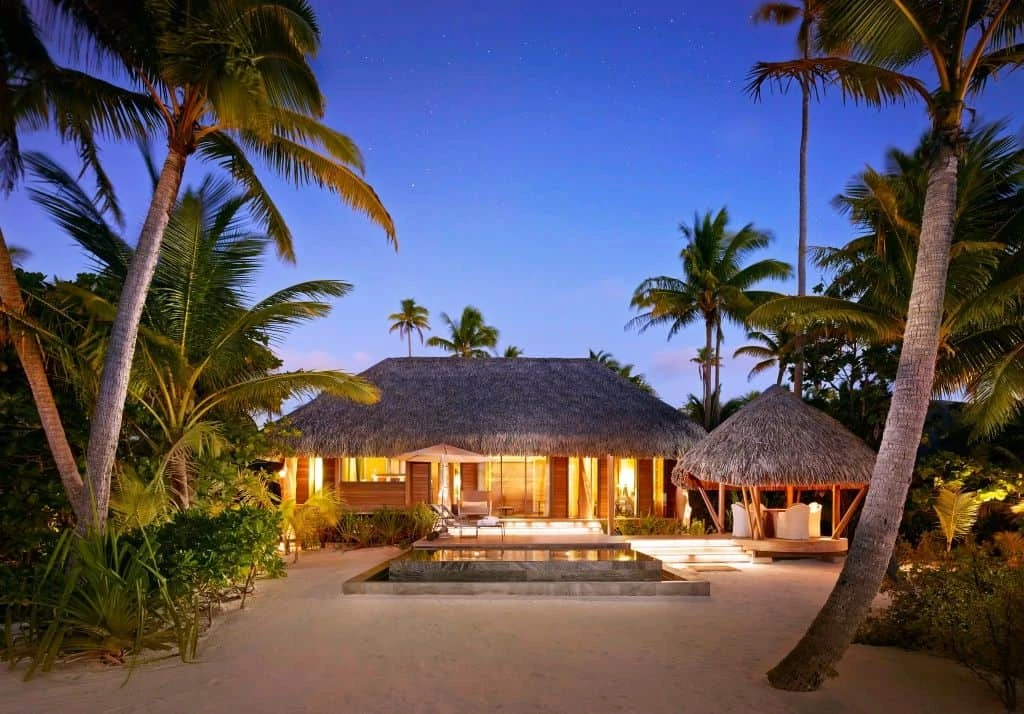 Best For Honeymoons: The Four Seasons Bora Bora
Four Seasons Bora Bora gives you sweeping views of the island. It's located on an islet in the lagoon. It opened in 2008, making it one of Bora Bora's newest luxury hotels. There are 100 overwater villas scattered over the lagoon. This is a premium luxury resort and it's very much geared towards honeymoons and special occasions.
View Four Seasons Bora Bora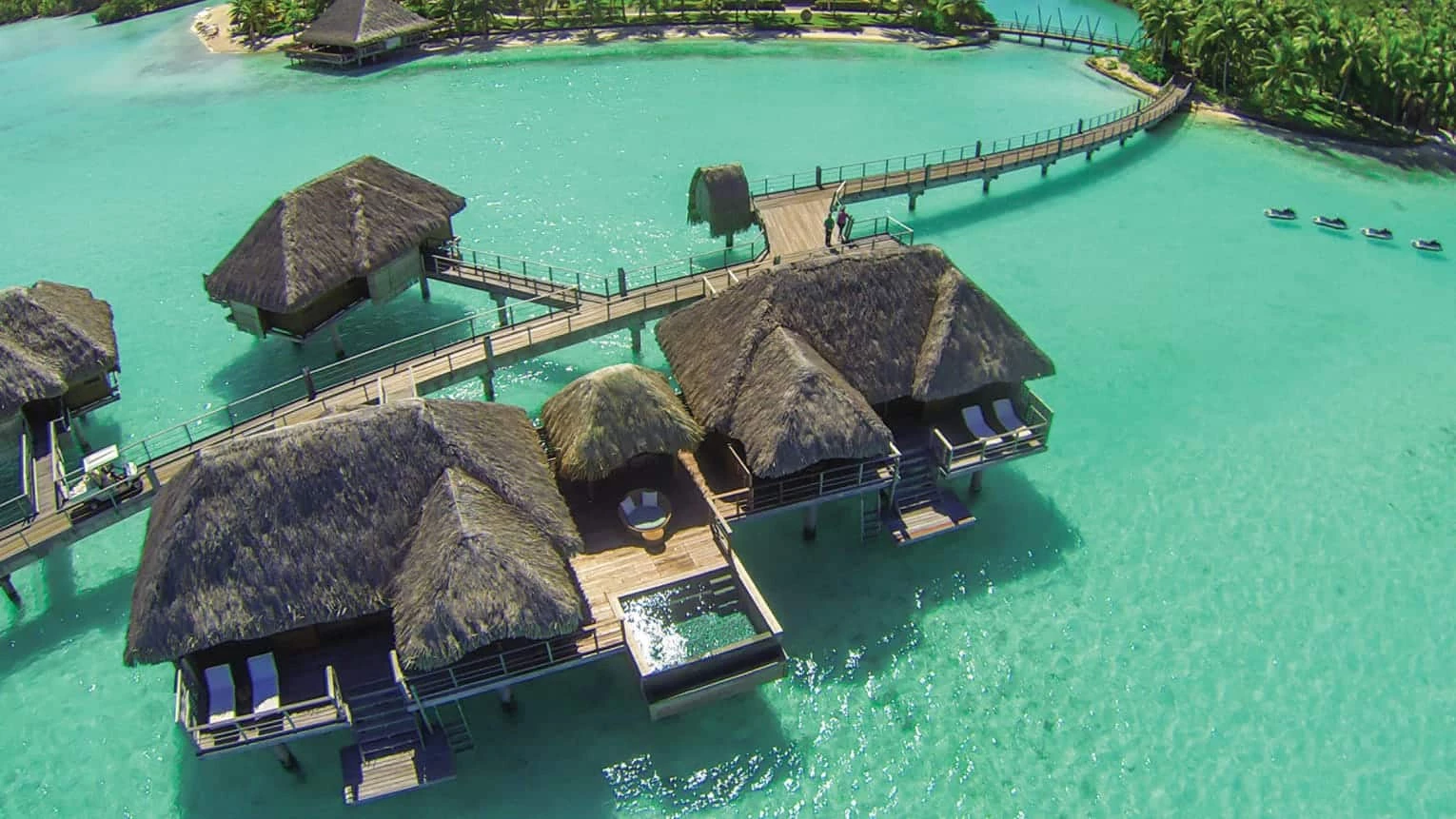 Best in Mo'orea: Hilton Mo'orea Lagoon Resort and Spa
Most of the hotels we've shared are in Bora Bora. This one is our highlights on the island of Moorea. The Hilton Lagoon is a charming luxury resort. Even the entry level rooms have private pools. This resort is mostly a draw for American couples. The overwater bungalows have private decks with glass panels so you can view the marine life in the lagoon below. Head to the bar for happy hour every night.
View Hilton Moorea

Best For Layovers: InterContinental Resort Tahiti
Flying to French Polynesia, you're likely to land in Tahiti. To ensure your transfer to Bora Bora goes smoothly, it's best to spend a night in Tahiti. Returning from Bora Bora you'll definitely want to spend another night in Tahiti. So, we'd recommend the fabulous InterContinental Resort Tahiti. You'll have the chance to explore the island of Tahiti itself.
This is the island Marlon Brando fell in love with when he filmed Mutiny on the Bounty. He bought the neighbouring island of Tetiaroa and built his famous hotel… but more of that later.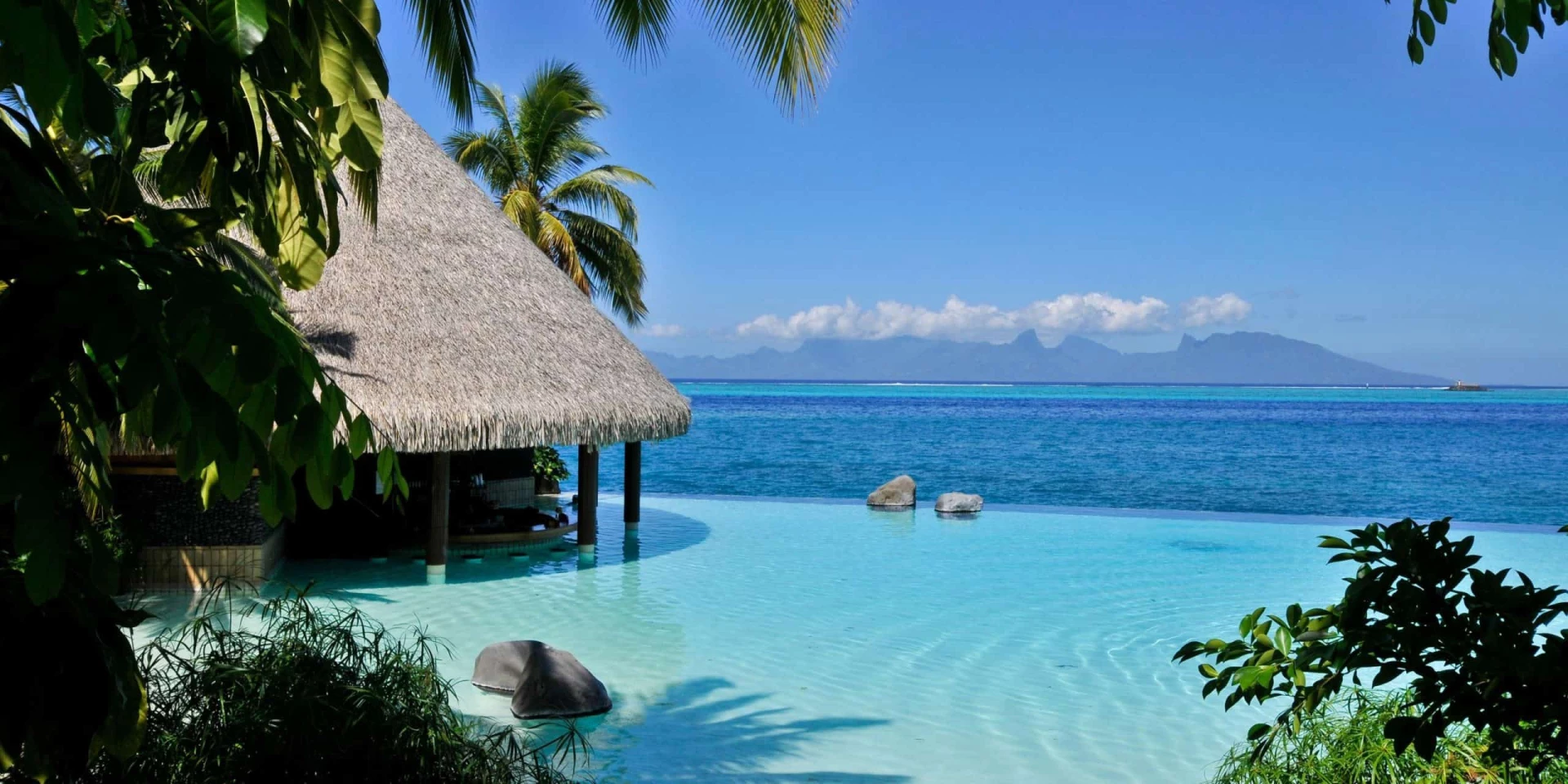 Gay Weddings & Honeymoons in French Polynesia
French Polynesia is one of the best destinations on earth for honeymoons. It's also a very gay-friendly destination. French Polynesia, unlike many cultures, never had a homophobic tendency. It's possible to have a full legal gay wedding ceremony in French Polynesia. You can also opt for a Symbolic Polynesian Commitment Ceremony. Either way, we can take all the pressure out of your hands and plan the perfect gay wedding and honeymoon in French Polynesia.
View Gay Weddings & Honeymoons Bora Bora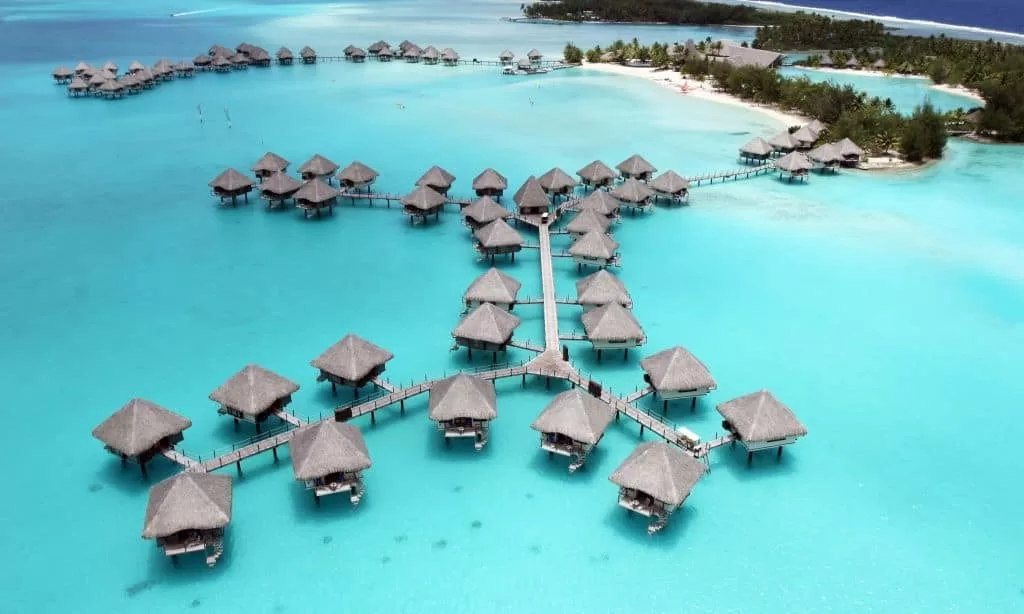 Catamarans in French Polynesia
Exploring the blue waters of the lagoon is a must. We can arrange a catamaran trip around French Polynesia for you. You can sail for three nights on a private catamaran, exploring secluded coves and observing marine life. Paddle boards and kayaks are included. This is an especially good choice for honeymoons in French Polynesia. You can also use the catamaran trip as a transfer if you're staying in multiple hotels – you'll be dropped off at the pier of your next hotel.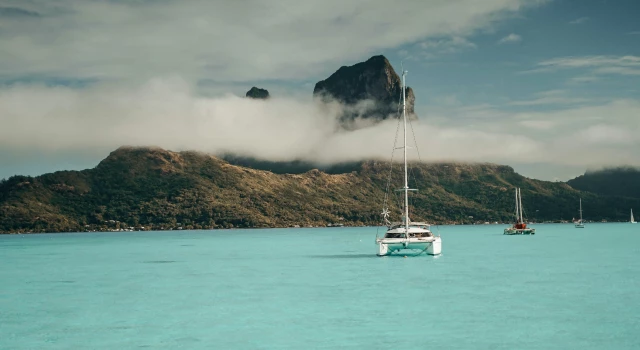 Gay travel in Bora Bora
Watch our video guide to French Polynesia.
We want to ensure you have the best experience with us so we'll keep working on your itinerary until perfect. You will have your own personal dedicated member of our team who will help build the perfect trip for you.
We pride ourselves in the number of clients that are referred to us by our existing customers. Our 5* Trustpilot rating is important to us, so we encourage you to browse our reviews. They speak for themselves and that's why you are in safe hands.