Santorini is the most glamorous island in Greece and one of Europe's top gay honeymoon destinations. The blue domes of Santorini's churches appear in the background of so many honeymoon photos. Santorini is known as the world's most Instagrammable island for a reason. The flawless Mediterranean lights, endless Aegean blues and whitewashed buildings combine to give you endless photo opportunities. It's said that you can't take a bad photo in Santorini.
Santorini emerged as a tourist destination in the 1970s. Since then, it's popularity has grown year by year. It's home to some excellent boutique hotels that are ideal for a gay or lesbian honeymoon in Santorini. Santorini is also the birthplace of cave hotels, which have become very fashionable. Waking up in a luxury suite in a cave with direct caldera views makes for a very romantic experience.
It's all about romance and luxury in Santorini. Your trip will be centred around your hotel, so we've weighed up the merits of Santorini's finest hotels. For even more, why not combine with a gay honeymoon in Mykonos?
Call our travel experts on
+44 (0)20 7157 1570
Recommended reading
Santorini Island Guide
Featured Santorini Trips
Greece

From 7 days - Tailor-made from

£2220

The Greek islands have long been one of our most popular destinations. You'll find some of the most charming hotels in Europe in Greece, especially in Mykonos and Santorini. There are so many hotels to choose from in the Greek...

View Itinerary

Greece

From 8 days - Tailor-made from

£1259

Island hop through the Greek Islands. Visiting Athens, Mykonos and Santorini, this deluxe itinerary allows you to explore both historical Greece and relax in the sumptuous Greek Islands of Mykonos and Santorini in ultimate luxury. Explore the highlights of Ancient...

View Itinerary

Greece

From 7 days - Tailor-made from

£1395

The itinerary takes you to Athens and Santorini. You'll explore both historical Athens and relax in the stunning Greek Island of Santorini. Visiting the highlights of Ancient Greece, you'll spend time in the heart of Athens before heading by boat...

View Itinerary
The Best Hotels In Santorini
Santorini is one of our most popular destinations. We've inspected many of the hotels ourselves and sent many of our clients there. We've got the inside lowdown on the very best hotels for a gay or lesbian honeymoon in Santorini.
The architecture in Santorini is very distinctive. As you explore the island, you'll find endless places for a dreamy photo opportunity. As the settlements in Santorini are up the caldera, you'll be greeted with panoramic views wherever you look – including from your hotel.
Many of Santorini's best hotels are family-run. There aren't any big resorts in Santorini – they wouldn't fit! One of our favourite hotels in Santorini is Perivolas. Its classic Grecian design is stunning. Perivolas is considered to be the hotel that put Oia on the map. It's a cave hotel – the suites are carved stone by stone from the cliff. All come with direct caldera views. Some rooms come with private plunge pools overlooking the Aegean. Perivolas captures the essence of Grecian design and the understated luxury Santorini is famous for.
Why Santorini?
It's one of the world's most idyllic islands
Santorini is home to some of the best boutique hotels in Europe
Ideal for honeymoons/couples trips
You can't take a bad photo in Santorini
If you want to party, you can take a boat to Mykonos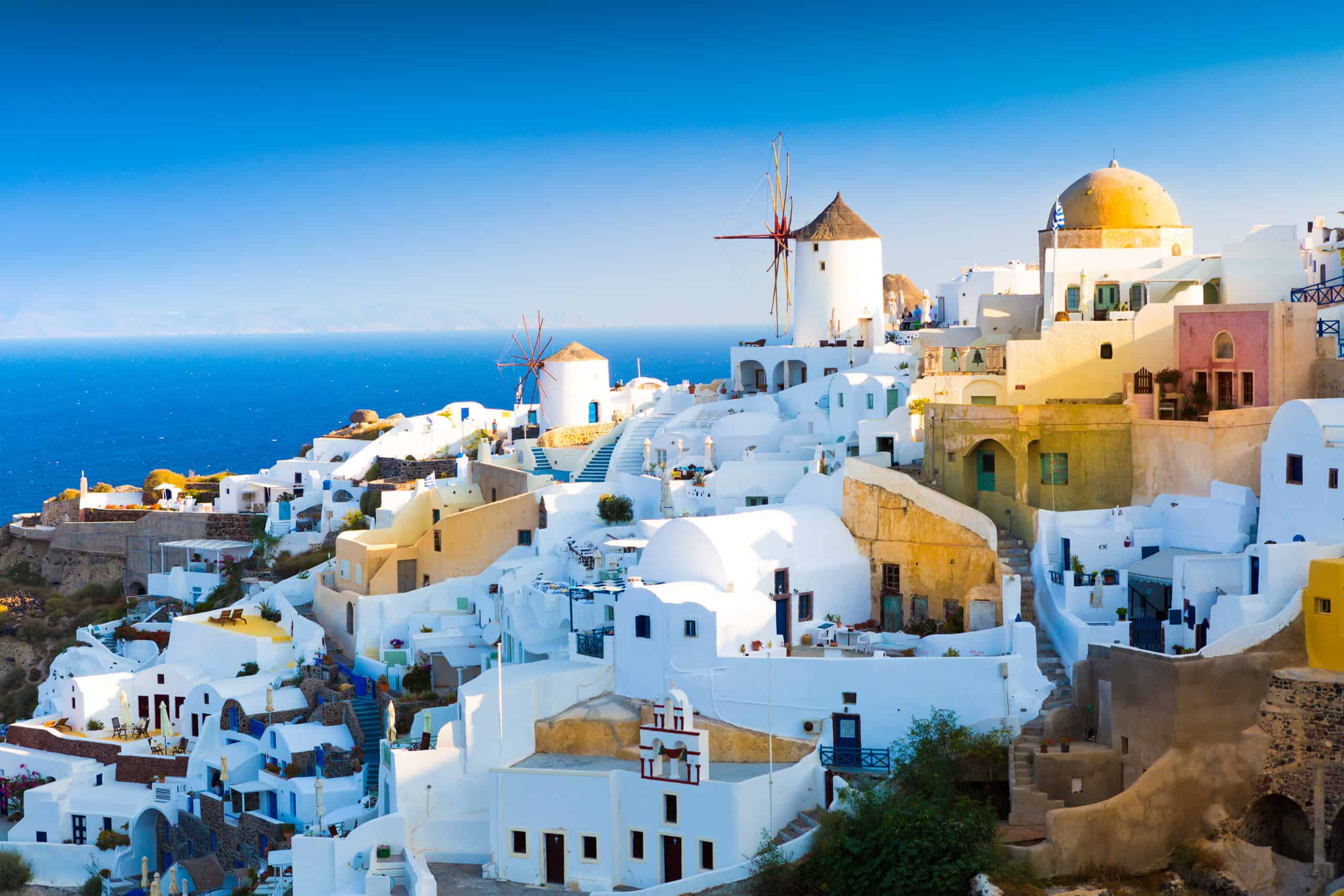 Browse Itineraries
Things To Do In Santorini
Santorini is most popular as a honeymoon and couples vacation spot. It's recorded history stretches way back to the Minoans, a civilisation that pre-dated the ancient Greeks. Their reign over the Cyclades came to an end around 3,500 years ago. The eruption at Thera all but destroyed the island – much of it tumbled into the caldera. Wherever you look you'll see the effects of this vast explosion.
You can take a trip to Akrotiri and discover the remains of the Minoans. The eruption preserved some of their ancient artworks that would otherwise have disappeared in time.
Santorini is famous for wine – it's been a wine producing area since the dawn of ancient Greece. As it's a volcanic island with a desert climate, its wine has a unique edge.
The capital of Santorini is Fira. It's where everyone gathers in the evening to watch Santorini's world famous sunsets. The bars and will be full and the atmosphere is quite spectacular. It can get very busy in peak season – especially in Fira. There are other villages to explore, including Oia and Imerovigli.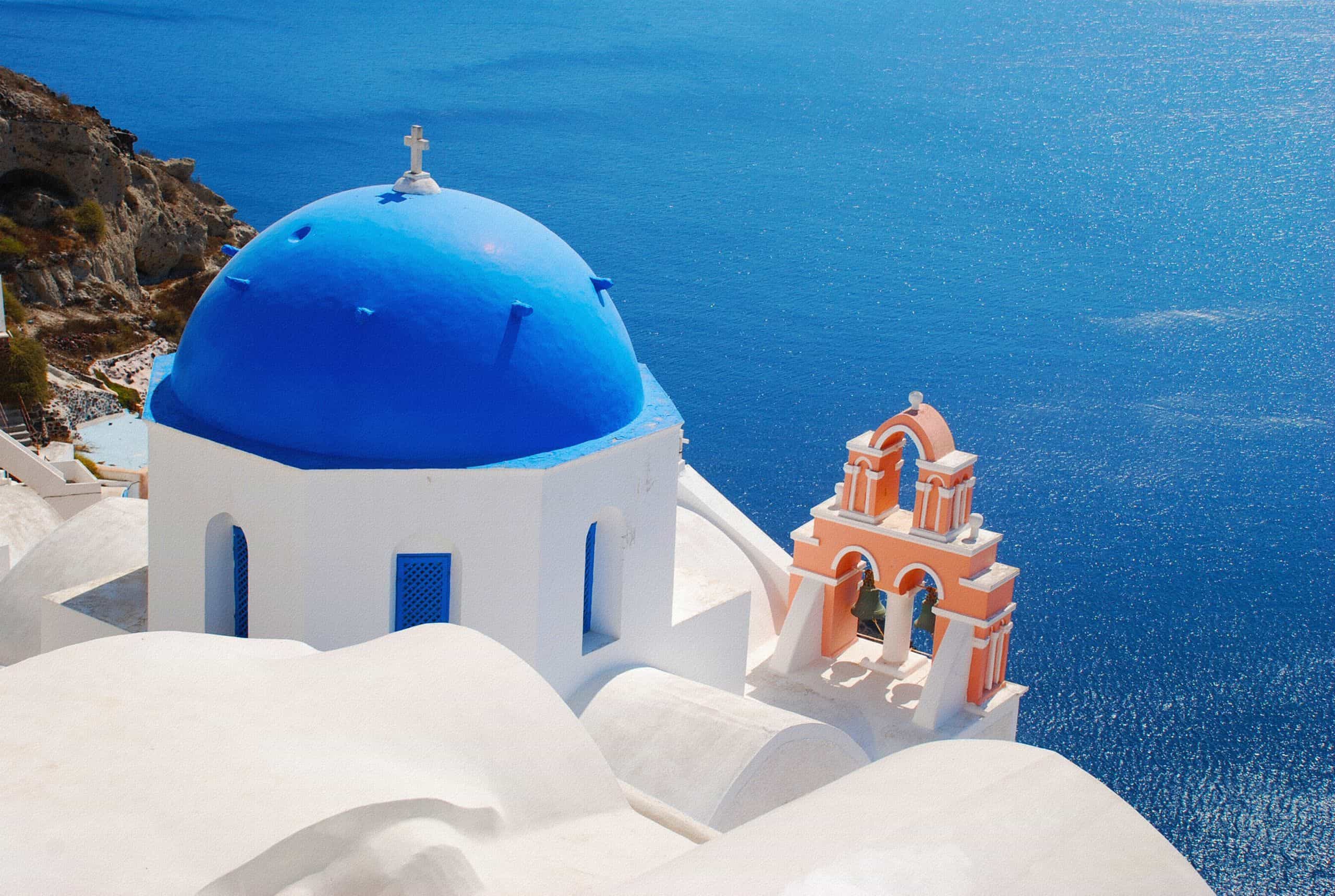 More Hotels in Santorini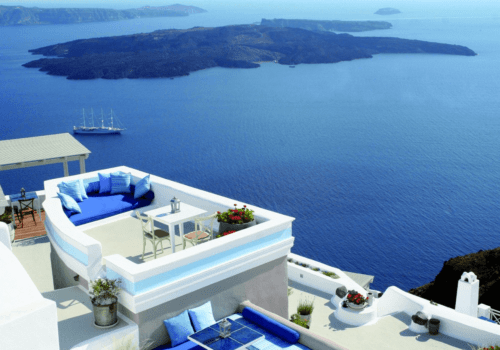 Iconic Santorini
Iconic Santorini is a classic cave hotel right by the village of Imerovigli. It has been hailed as the best boutique hotel in Santorini on numerous occasions. This hotel is perched precipitously on a cliff overlooking the caldera. It's all about the views – Iconic boasts some of the best views in Santorini. The hotel is comprised of 19 can suites spread over six floors.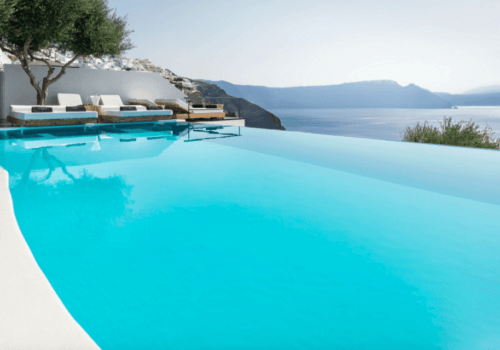 Andronis Luxury Suites
Andronis Luxury Suites is Santorini's  flagship cave hotel. It was the first of the Andronis hotels on the island. The Andronis brand turned Santorini into a luxury hotel destination and it's style has often been imitated. It's located right in the hear of Oia. This hotel stretches way down the caldera: you may be wending your way down many steps to get to your suite.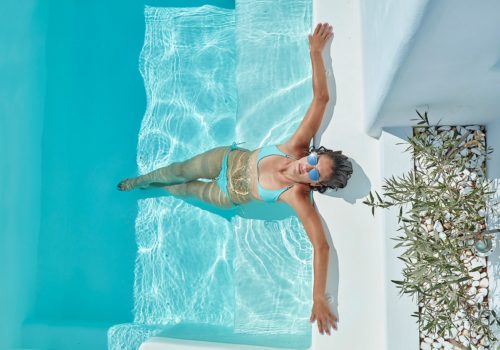 Charisma Suites
Charisma Suites is a great choice for a couples trip to Santorini. It embodies the classic Cycladic design of whitewashed walls, lightly accented colours and understated luxury. Its infinity pool boasts one of the best views in Santorini.
The Best Hotels in Greece