Greece has around 6000 islands and just over 200 of them are inhabited. Mykonos and Santorini are the most popular Greek islands. Combining the two with a couple of nights in Athens makes for a great itinerary. Choosing which one to favour can be tricky, as they both have different charms.
So, what's it going to be, Mykonos or Santorini?
Beaches
If you're looking to unwind on the beach then Mykonos has the edge. There are more than 20 beaches with soft golden sands. As Santorini is a volcanic island its beaches are full of volcanic pebbles. They are beautiful to look at but coarser than the beaches in Mykonos.
The famous blues of the Aegean surround both islands. As you'll find yourself up a cliff in Santorini, the sea often feels far away. The beaches are much easier to access in Mykonos. However, Santorini boasts superior views than Mykonos. When you arrive, you'll take a donkey or a cable car up the cliff and you'll be greeted with stunning surroundings wherever you look, particularly if you can see the caldera.
Mykonos is home to the famous Psarou Beach and the Kensho Psarou Hotel. Paris Hilton opened the Kensho in 2018. Psarou Beach, footsteps away from the hotel, has become a natural habitat for the rich. You'll see many grand yachts bobbing in the harbour and lots of glamorous people unwinding on sun loungers and dining at Nammos restaurant.

Hotels
Both Mykonos and Santorini are home to many world-class hotels. The signature Cycladic style combines whitewashed walls and understated elegance. Minimalism is at the heart of the aesthetic – don't tell Donatella Versace! You'll see many blue domed churches, cubic houses and winding cobblestone streets. Some people visit Mykonos or Santorini with social media kudos at the forefront of their minds. You can take pictures with dreamy backdrops and flawless Mediterranean light. No "influencer's" Instagram is complete without a shot of the blue domes of Santorini or the windmills of Mykonos.
Our most popular hotels in Mykonos are those that make up the Myconian Collection, such as Myconian Korali and Myconian Utopia. The properties are effortlessly chic. They're perfect if you're opting for a gay honeymoon in Mykonos.
Santorini is home to some of the most romantic hotels in the world. It's a top honeymoon destination for a reason. Some of our favourite hotels in Santorini are the cave hotels. Carved into the cliffside like caves – hence the name – these hotels are chic, understated and atmospheric. Our top choices would be Perivolas and Iconic Santorini – also ideal for a gay or lesbian honeymoon in Santorini.
If you're planning a romantic trip to the Greek islands, Santorini takes the lead over Mykonos. Waking up in a cave hotel overlooking a volcano is a pretty unforgettable experience.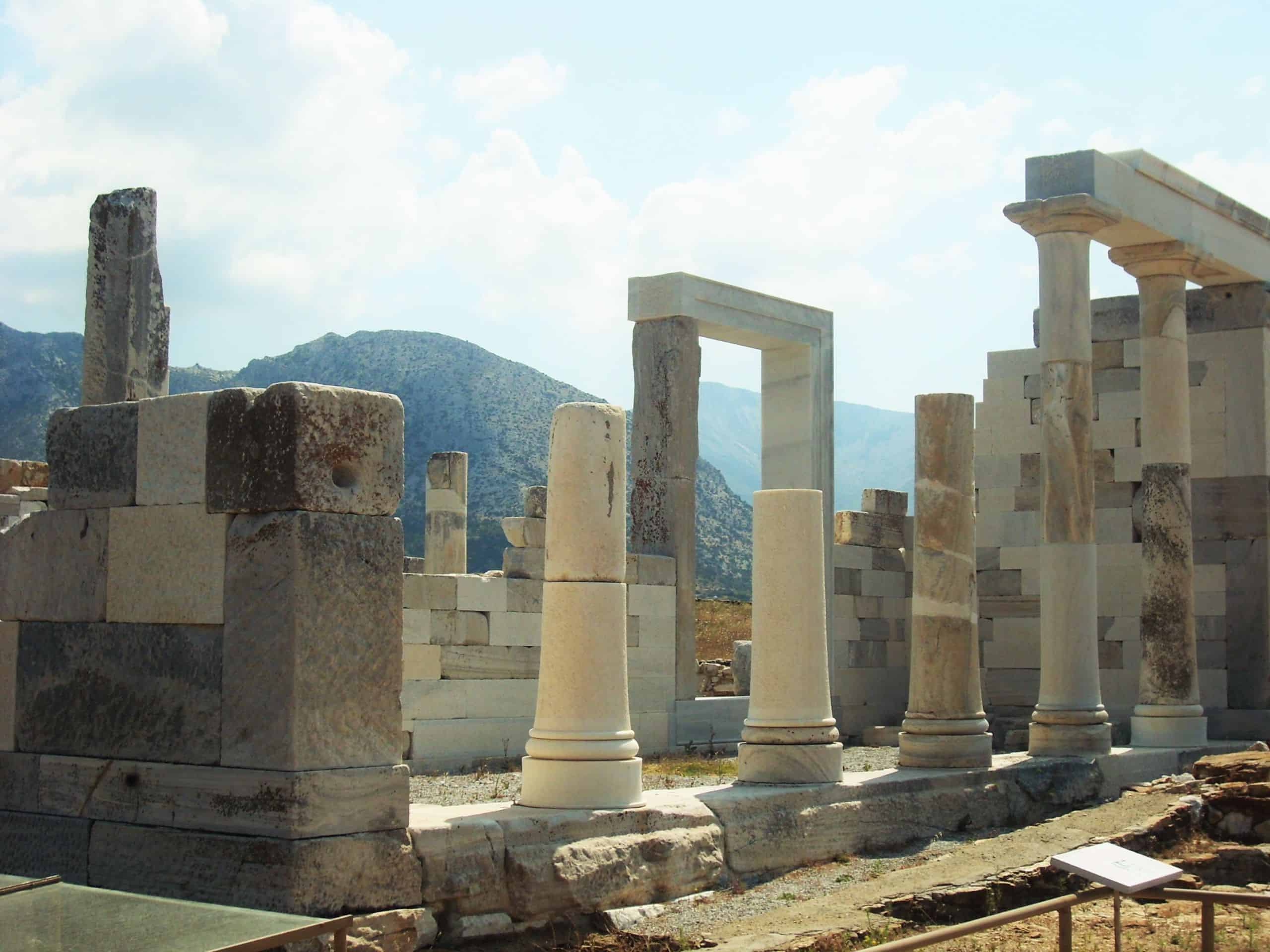 Culture And History
The Archaeological Museum of Delos is an unmissable cultural attraction if you're in Mykonos, and it isn't even in Mykonos. It's just a short boat ride to Delos – the ferry should take no longer than 30-minutes. Delos is packed with ruins from antiquity. So much so that this island could be seen as the living embodiment of history. It's the birthplace of Apollo and Artemis. You can join a guided tour of the ruins and catch a glimpse of the distant past.
Over in Santorini, you'll find numerous historical sites without having to leave the island. Chief among them is the prehistoric site of Akrotiri, a time capsule of the Bronze Age. To find out more check out our Santorini island guide.
Culturally, we'd say Santorini takes a clear lead over Mykonos. In terms of nightlife, quite the reverse.
Gay Scene
If you're looking for gay nightlife then Mykonos wins. It's the most gay-popular island in Europe. The international gay jet set has claimed it as their own. Many gay travellers visit Mykonos every year. You'll see same-sex couples all over the place – especially on the beaches.
The rainbow flag will guide you to the gay section of Elia Beach. Just beyond the flag near a rocky outcrop is a smaller gay nudist beach. Eyes will roam. Over on Super Paradise Beach is a mixed but considerably gay crowd. On the right-hand side of the beach you'll find the famous Jackie O' Beach Club.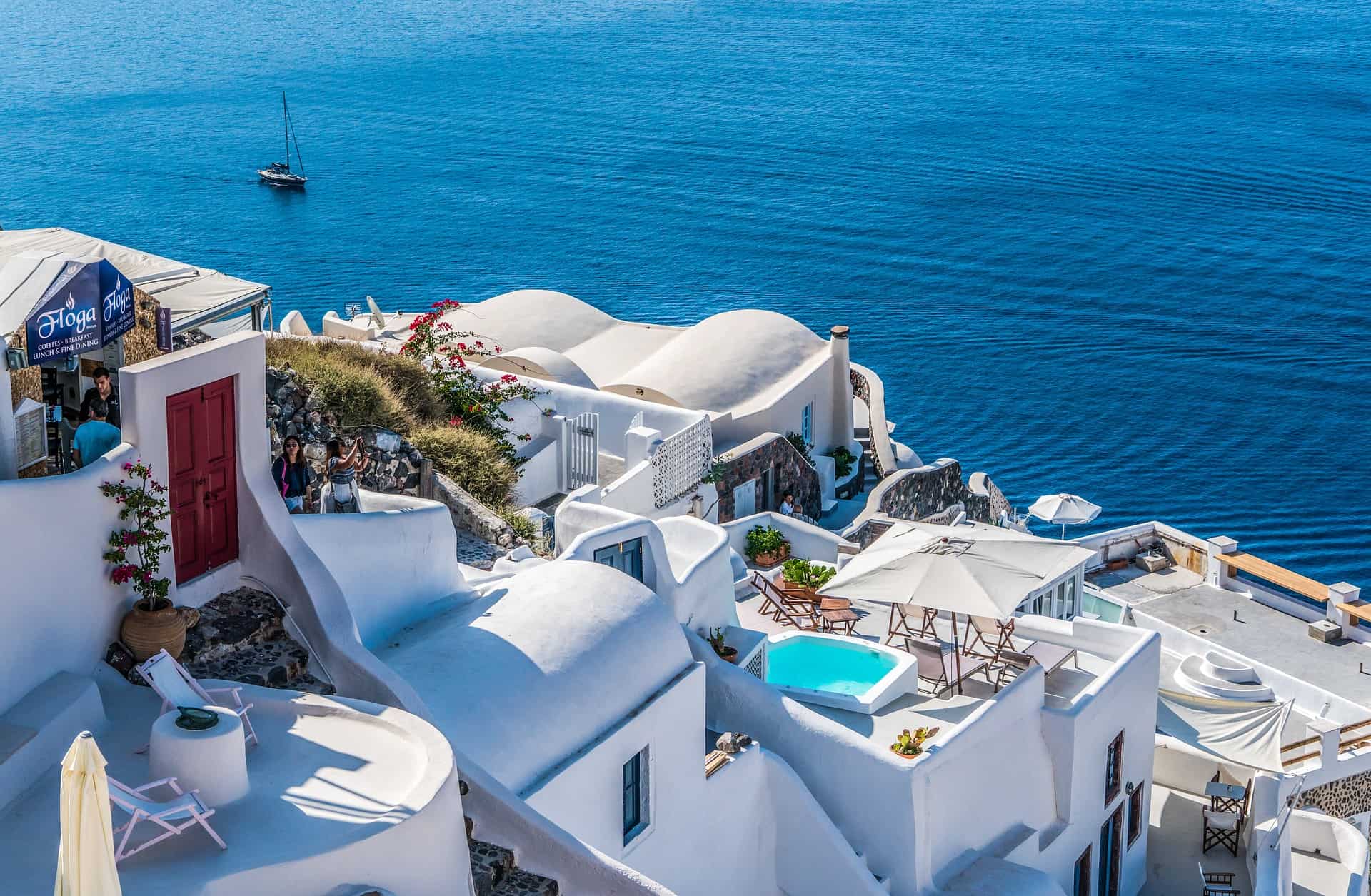 Which Is More Expensive – Mykonos Or Santorini?
It's a tie. Both islands are big draws for luxury travellers. Prices rise substantially in high season. The high season in Santorini runs from April to August. By September it will still be buzzing but less crowded. High season in Mykonos runs from July to August. It will still be busy up until late October. If you travel to either island in low season it will be cheaper but many businesses will be closed.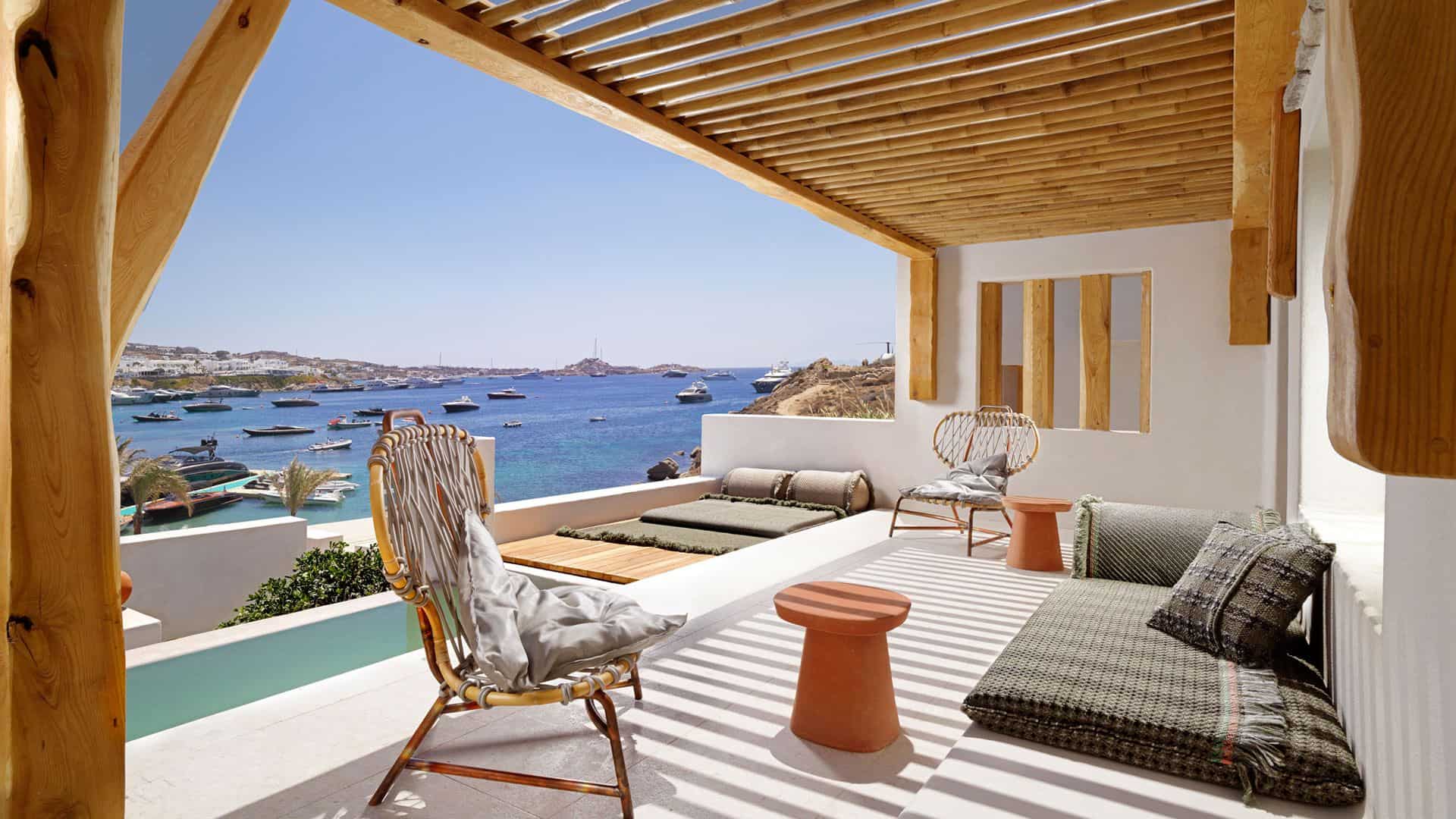 How Many Days Do I Need In Mykonos Or Santorini?
You can do both islands in a relatively short space of time. Overall, there's more to see in Santorini so it's best to spend a little longer there. But if you're looking to party and explore the gay scene you should spend longer in Mykonos, and then take a couple of days to recover in Santorini.
The ferry from Mykonos to Santorini takes around three hours. If you have time then combining both islands makes for a dream holiday. You'll also need to spend a night in Athens when you arrive to ensure you have a stress-free transfer from the capital city to the Cyclades. Preferably on your way out too for a smooth transfer to the airport – otherwise you're at the whim of Greek public transport!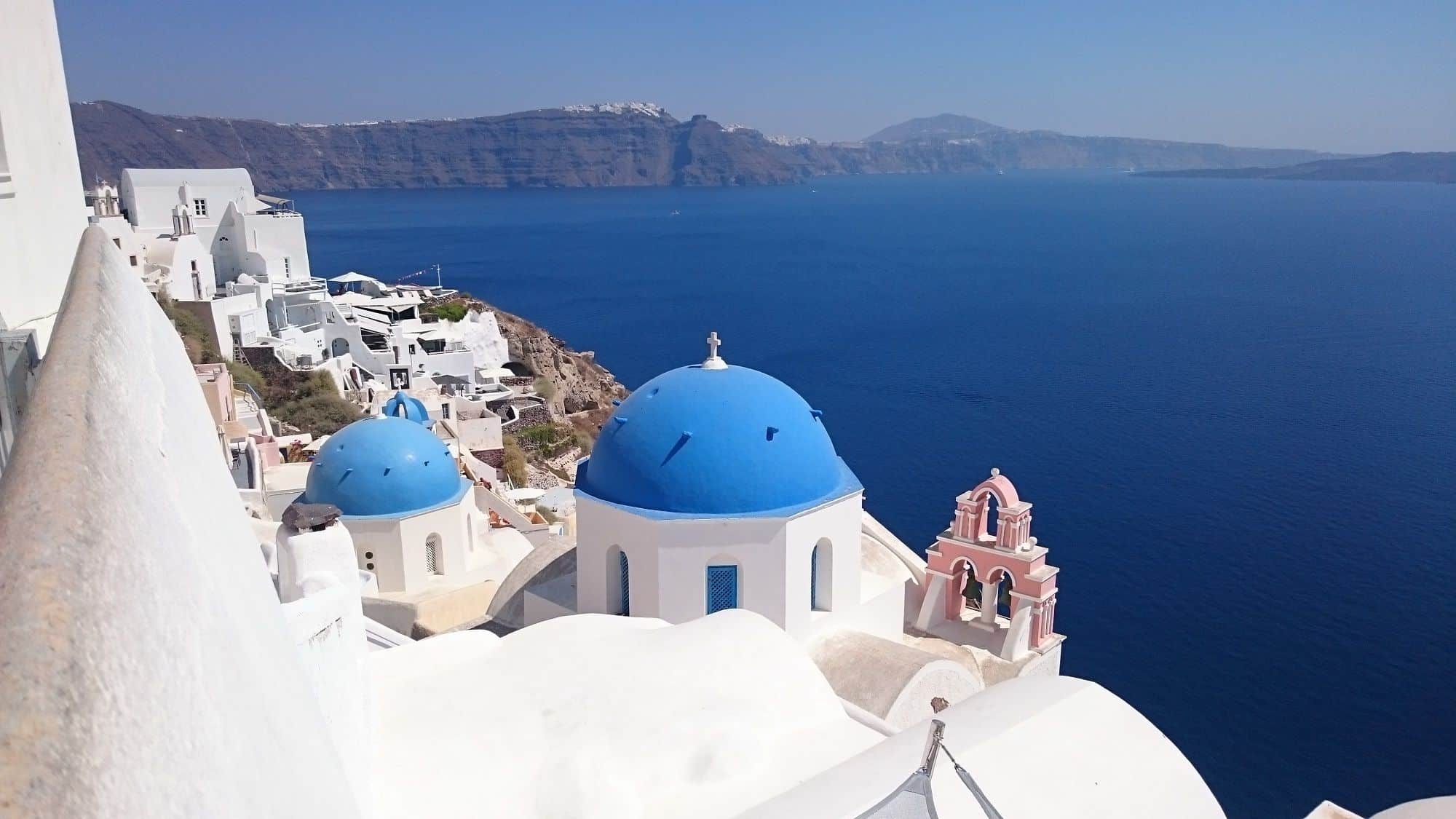 What About Greek Island Hopping?
Adding more islands can be very tempting but it brings logistical challenges: transferring from island to island and checking in and out of multiple hotels. If you'd like to add multiple islands to your trip, we can organise all your transfers and hotels. You'll just have to show up and enjoy the ride.
Supposing you had to pick one island for your trip, we'd recommend Santorini if you're looking for romance and Mykonos if you're looking to party.