Mykonos is Europe's most popular gay vacation spot. Peak season in Mykonos runs from April to October. In the summer months it's always buzzing. Mykonos isn't just a party destination. It's very chic, home to many excellent hotels and it's a great destination for a gay honeymoon.
Santorini is Greece's most popular island for honeymoons, but Mykonos is an equally good choice. Like Santorini, Mykonos is surrounded by endless Aegean blues, whitewashed buildings and flawless Instagram backdrops. If you want great photos the Greek islands are pretty unbeatable. There's something about the light in Mykonos: it makes for the perfect romantic backdrop. Mykonos has a great selection of hotels for gay honeymoons. For even more, why not combine with a gay honeymoon in Santorini?

Call our travel experts on
+44 (0)20 7157 1570
Recommended reading
Mykonos or Santorini – which is Better?
Gay Honeymoons in Mykonos
Greece

From 7 days - Tailor-made from

£2220

The Greek islands have long been one of our most popular destinations. You'll find some of the most charming hotels in Europe in Greece, especially in Mykonos and Santorini. There are so many hotels to choose from in the Greek...

View Itinerary

Greece

From 8 days - Tailor-made from

£1259

Island hop through the Greek Islands. Visiting Athens, Mykonos and Santorini, this deluxe itinerary allows you to explore both historical Greece and relax in the sumptuous Greek Islands of Mykonos and Santorini in ultimate luxury. Explore the highlights of Ancient...

View Itinerary

Greece

From 9 days - Tailor-made from

£3565

Greece is one of the best gay honeymoon destinations. It's packed with history and outrageously romantic settings. Your Greek honeymoon will begin in Athens. Here you'll discover iconic buildings from the ancient world and dine in a top restaurant. You'll then visit...

View Itinerary
Choosing a Gay Honeymoon in Mykonos
Mykonos is a perfect choice for a gay honeymoon for plenty of reasons. The island is something of a gay mecca – that goes without saying. Mykonos doesn't really have big chain hotels, but you will find some of Europe's best boutique hotels in Mykonos. These intimate, romantic hotels are geared towards couples vacations.
Mykonos is built around tourism. There are many honeymoon perks to enjoy in Mykonos – you can expect champagne waiting in your room and all the little touches that make a honeymoon such a special experience. Some of the hotels in Mykonos boast private plunge pools. Having a swim in your private pool surrounded by Aegean views is quite an experience.
If you decide to have your gay honeymoon in Mykonos, your trip will begin in Athens. It's best to spend a night in the capital. You can guarantee the best ferry connections to the Greek islands from Mykonos. You'll also want to spend a night in Athens upon your return – you can guarantee a stress free trip to the airport that way.
Why Mykonos?
It's Europe's biggest gay vacation spot
You can't take a bad photo in Mykonos
Excellent boutique hotels
Buzzing nightlife and great cuisine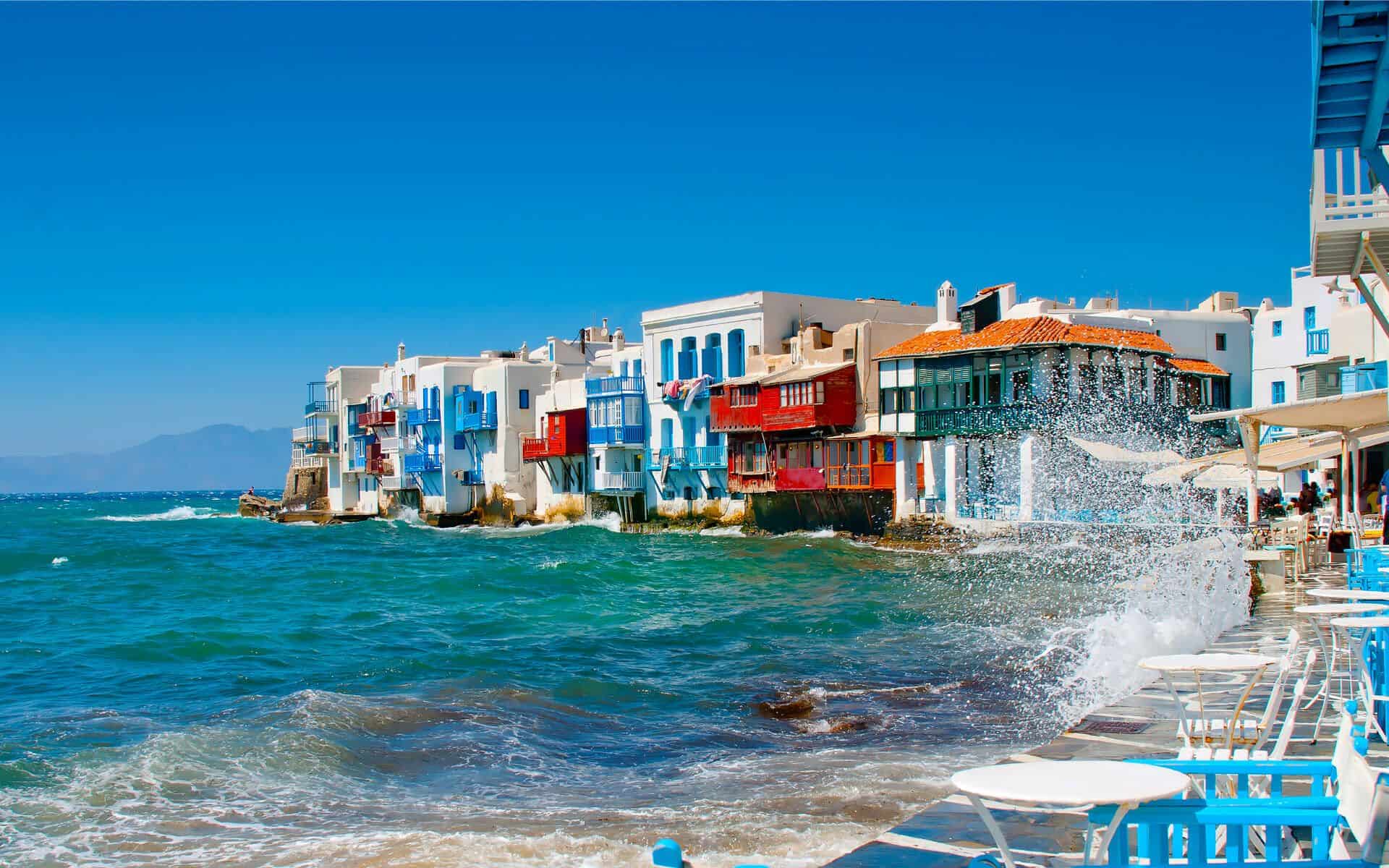 Browse Itineraries
Things To Do In Mykonos
Mykonos is a great place to party. Head to Jackie O' near Super Paradise Beach Club. Here you'll find many upwardly mobile gays enjoying the sun. You can enjoy some civilised cocktails and then head to a restaurant – the cuisine is excellent in Mykonos. If the mood takes you, then you can party all night.
Further up the coast, you'll find Psarou Beach. It's become something of a playground for the rich. Right by Psarou Beach you'll find the Kensho Psarou, a great boutique hotel for a gay honeymoon in Mykonos. It combines classic Grecian elegance with a modern twist.
If you'd like a culture fix, take a boat trip to the island of Delos. It's just a 30-minute boat ride from Mykonos. Here you'll find splendid ruins from antiquity. Delos is the birthplace of Apollo and Artemis. If you'd like a culture fix on the island of Mykonos itself, take a trip to the famous Windmills of Mykonos. They were built by the Venetians back in the 16th-century – they are the most famous landmark in Mykonos.
Things to do in Mykonos
Visit the windmills near Mykonos Town
Take a day trip to the island of Delos
Explore Mykonos' famous gay scene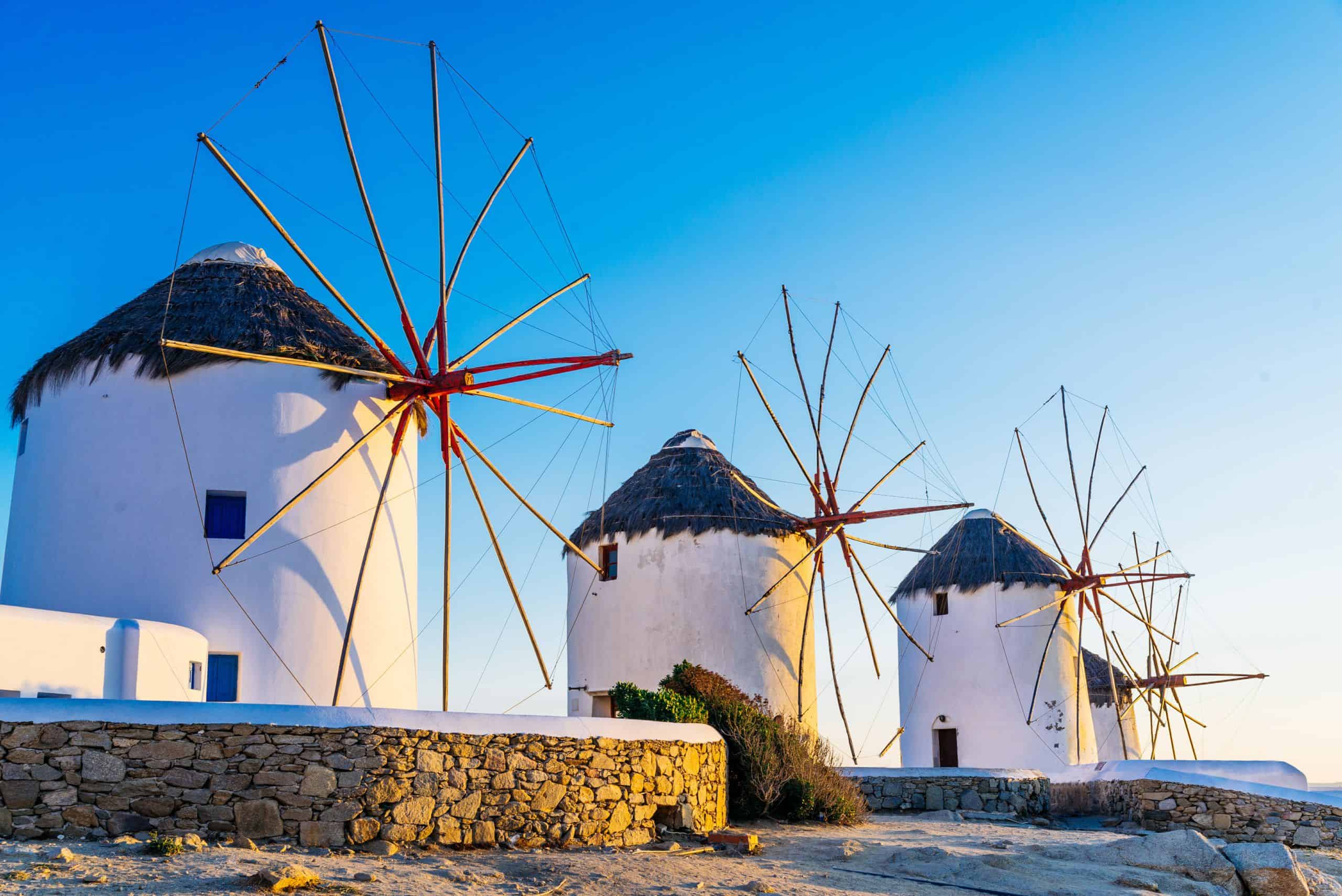 Best Hotels For Gay Honeymoons in Mykonos