Kiruna is Sweden's northernmost city. It becomes a big draw for tourists pursuing the Northern Lights during the winters months. The nearby IceHotel is also a major attraction. Kiruna is an accessible base from which to explore the Northern Lights, go dog sledding and reindeer sledding – all the Nordic winter fantasies. Kiruna is a city of 18,000 people; it's sustained by a huge iron mine.
Camp Ripan is a hotel but it's spread out – Kiruna municipality covers a lot of space. You'll feel like you're staying in your own private cabin, which you essentially are. Camp Ripan gives you a private oasis in the heart of Lapland. The cabins are elegantly designed and have a contemporary Nordic feel. It's perfect for a winter getaway.
Highlights
Cost Category: Silver

Stay in a charming Nordic cabin
Go husky sledding
Pursue the Northern Lights
Discover the indigenous Sami culture
Room Options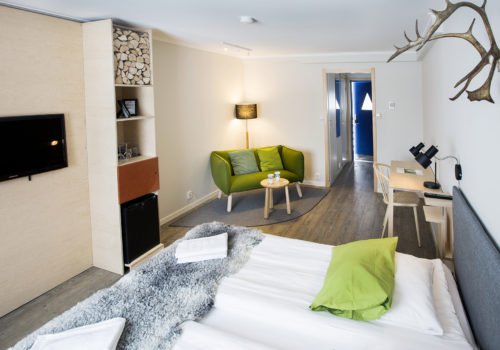 Accomodation
Camp Ripan has four different types of rooms/cabins.
Rievssat comes with a double room and two single beds
Kiruna offers a double room and king-size bed
Giron has two rooms for four people
Riekko a double room with single beds and separate bathrooms
You may well be able to see your Northern Lights above your cabin. The cabins come with a sofa, table and desk. You'll also have cable TV, wi-fi and a small fridge.
More Information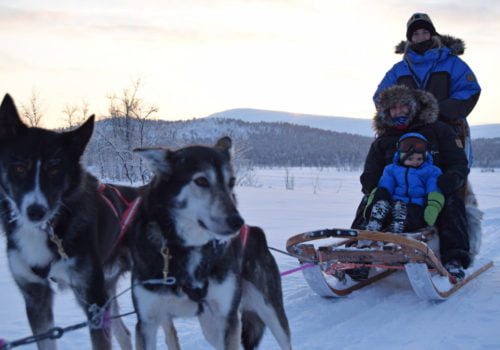 Activities
Camp Ripan has many activities to choose from. If the famous IceHotel is out of budget or it's fully booked then fear not. Camp Ripan can organise day trips to the hotel, so you can see what all the fuss is about. The IceHotel is, as the name suggests, made of ice. It melts away, only to be built anew every year.
If you're heading to Lapland you'll no doubt want to see the Northern Lights. You can join a Northern Lights tour with a local guide. The weather has to be clear for you to see them, so Northern Lights viewing can't be guaranteed. However, the Aurora Station is easily accessible and it's one of the best places on earth to see the lights with an 80% guarantee.
The Sami are the indigenous people of the region. They have maintained the same traditions for many centuries. You can choose from a range of Sami experiences, including a Sami Dinner in a tent under the Aurora Borealis and a trip to a Reindeer Camp.
Dogsled Tours are very popular. Ride a husky driven sleigh into the wild. As you ride through the snow the only sound you'll hear is the motion of the sleigh and the breathing of the huskies. You can also opt for a Moonlight Husky Tour – it's impossibly romantic. As well as husky tours, you can go for a Snowmobile Tour and even try Icefishing By Snowmobile.