The iconic IceHotel in Jukkasjärvi, in Sweden, is located 200 km inside the Arctic Circle along the banks of the frozen Torne river. During your stay, you will have the opportunity to enjoy the comfort of the stunning ice hotel with its unique sculptures and designs.
Explore the indigenous Lappish nature through husky sledging and snowmobile safari on a hunt for the Northern Lights. Stay in an ice room and a warm room at the hotel to get the full experience. It's undoubtedly one for the bucket list.
Call our travel experts on
+44 (0)20 7157 1570
Highlights
Cost Category: Gold

One of the world's only ice hotels
Northern lights premium viewing location
Excellent Swedish cuisine
Stunning scenery
More Information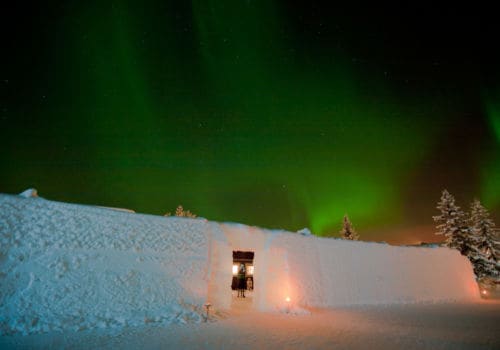 About ICEHOTEL
The ICEHOTEL is a world-famous hotel that started as an art exhibition in 1989. Every year it's rebuilt with artists from around the world who fly in especially to carve and design the rooms.
Set in the Swedish village of Jukkasjärvi, 200km north of the Arctic Circle the property is set along the Torne River. In 2016, the hotel became a year-round experience when they built ICEHOTEL 365, a permanent structure that includes luxury suites.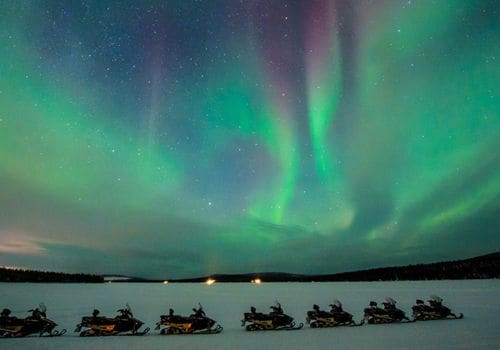 Activities
There is plenty to keep you occupied in Swedish Lapland.
Snowmobiling
Take to a snowmobile as you drive through the Arctic countryside. You'll be accompanied by a certified guide who will show you the region and allow you to take it in turns or, if you wish, drive your own snowmobile. A great opportunity to take photos!
Northern Lights by Snowmobile
This is a true experience. Head out into the wilderness at night to see the Northern Lights. Now whilst we can't guarantee that they'll perform for you, you're in one of the best places on earth to see them. Along the way, you'll stop at a warm wilderness cabin where you'll be served a two-course dinner by your guide.
Dog Sledding
Head out on a dog sled tour into the wilderness where you'll have lunch. The dogs are lively creatures who won't hesitate in helping you see the best of Lapland's natural beauty. We can arrange a dog sled to pick you up from the airport too which is a pretty unique way to get to the hotel!
Other activities include meeting reindeer, a traditional Sámi dinner or searching for moose on horseback. If you choose to visit in summer, you can go river rafting, see the midnight sun or head out on a photography expedition to see some of the most beautiful landscapes you'll have ever seen.
Gay Weddings at ICEHOTEL
Same-sex marriage has been legal in Sweden since 2009 and it makes The ICEHOTEL one of the most interesting places to have a gay or lesbian wedding.
Built every winter in a new design, the Ice Church at the ICEHOTEL will make your special day unforgettable. We can help plan your special day – the church is open from December 26th until April each year when it starts to melt back into the river.
The Ice Church accommodates around 40 people. The altar and pews are made of natural ice, whilst its walls and ceilings are made of snow. The Main Hall is also a potential wedding venue. We can also arrange a hair and make-up artist so that you look your sharpest for those undoubtedly incredible wedding photos.
For your reception, a Michelin-trained chef will ensure that you dine in style with your guests.
We'll also ensure that you are prepared with all the correct documentation for your same-sex wedding. You'll need to send some in advance to the hotel, but we will advise you of this.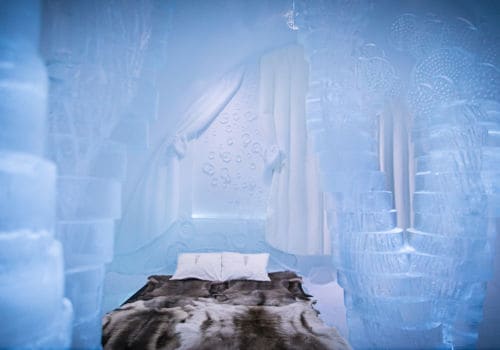 Useful tips about The ICEHOTEL
A truly unique experience, the ICEHOTEL  will warm and chill you in equal measure. It's recommended that you spend a few nights at the hotel, one in the cold rooms and then a couple in the warm rooms to allow you to continue and experiencing Swedish Lapland.
If staying in a cold room on your first night, there are around six hours between checking out and then accessing your warm room. This allows ample opportunity though to explore and take part in one of the many activities that Lapland is known for. You'll need to book your activities before you arrive as they get fully booked several weeks in advance.