Ceylon Tea Trails is billed as "The world's first tea bungalow resort." Made up of five colonial tea plantation houses, staying here is like stepping into another era. You'll have the services of a butler and exquisite views of the mountains and plantations. You can have a classic afternoon tea – brought to you by your butler. You can also play croquet, swim in the infinity pool and enjoy a drink in the evening by an open fire.
The bungalows are spread out over the Golden Valley of Tea, Bogawantalawa. It's a two-hour drive to Kandy.
This area was very popular with the British during the colonial era. That explains the croquet lawns and afternoon tea. Ceylon Tea Trails embodies Victorian colonial elegance with a modern twist.
Highlights
Cost Category: Gold

Stay in a colonial era bungalow
Private pools
Enjoy afternoon tea and whisky by an open fire
Mountain views
Butler service
More Information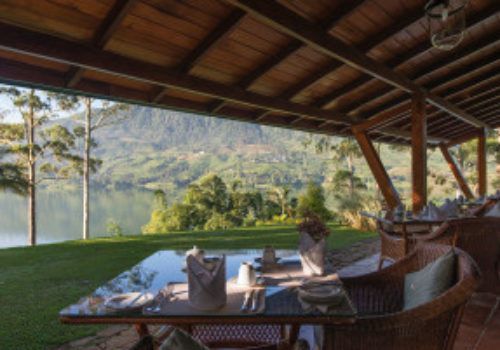 Dining Options
Your butler will bring you tea each morning. Very civilised. The butler will then prepare a bath for you.
You can have a Sri Lankan or English breakfast. To really get that tea plantion vibe you can have whisky by a roaring fire. Afternoon tea is served throughout the day. In the evening, a four course meal will be served.
Rates for food are fully included so you won't have to worry about bills at the end of your trip.