Azulik is one of the most unique and elegant hotels in Mexico. It's located in the town of Tulum, one of the more authentically Mexican towns in Riviera Maya. Azulik is more than a hotel: it's a work of art. This is a place where you can well and truly reconnect with nature. Luxury eco-resorts have become more prominent in recent years. This is one of the best.
Right in the heart of Yucatan, it's comprised of 48 stand-alone villas. The hotel looks like something from a particularly stylish movie set in a different world. The villas are designed in such a way they seem to merge with the jungle. Azulik is an ideal choice for a romantic trip. It's as Instagramable as can be.
The spa is excellent. You can opt for a range of treatments focusing on Mayan-inspired therapies. These include traditional Mayan ceremonies, meditation and yoga.
Call our travel experts on
+44 (0)20 7157 1570
Highlights
Cost Category: Gold

Reconnect with nature in a luxurious setting
Ideal for honeymoons
Enjoy a digital detox
It's a resort unlike any other
More Information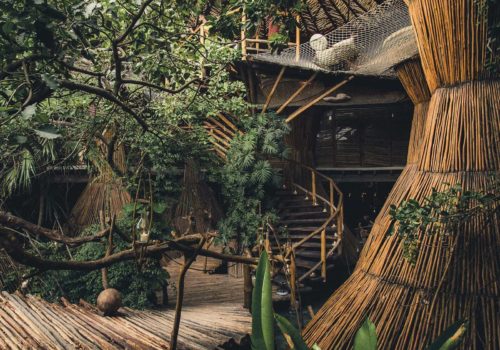 Food And Drink
There are three restaurants at Azulik. The cuisine on offer is excellent. Kin Toh serves avant-garde cuisine. It's a treehouse restaurant with private nests that give you the experience of floating over the jungle. The wine list is also of a very high standard.
Tseen Ja is every bit as charming and it served Japanese fusion cuisine. Both Kin Toh and Tseen Ja are luxury restaurants and they're well worth trying out. For a slightly more informal dining experience, head to Cenote for breakfast each morning.