Elegantly poised atop a hill overlooking and the broad blue Aegean and the white of Mykonos town sits the seductive charm of the this boutique 5-star hotel. Its striking architecture is a stylised interpretation of stone structures from ancient Mycenae, conferring a sense of wonder: you find yourself in a place that is both timeless and contemporary, surrounded by a host of international design classics and original artworks. Relax in the infinity pool with splendid views while enjoying a drink from the pool bar, or explore the local area at the recommendation of the hotel concierge team.
Call our travel experts on
+44 (0)20 7157 1570
Highlights
Cost Category: Gold

Butler service
Pre-arrival request and shopping service
Express check in / check out
Luxurious transfers from and to the airport
Welcoming refreshments upon arrival Valet parking
Packing and unpacking service
Laundry, dry cleaning and garment pressing services
Excursions, yacht and helicopter rentals
Leisure activities (water sports, horseback riding, etc.)
Room Options
NAIA SUITES
A luxurious suite with minimalist aesthetics and a strong personality that sustains its tone of blissful elegance throughout a natural colour palette. The sand-coloured walls of rough stone offer textured contrast to the cool marble tiles, white walls, brass fittings and beautifully crafted custom joinery. Loose conversation pieces include designer light fittings that shed a beautiful diffused glow, chairs that are celebrities of modern design, as well as the finest fabrics. The hard facts of high-tech amenities such as soundless air-conditioning, flat-screen satellite TV, hi-speed Wi-Fi and perfect water pressure are a given, as is the superlative standard of service that considers a guest's every comfort. And naturally, final credits go to the view from a private balcony over the Myconian windmills, where your spirits will fly high during the famous magic hour on the Cycladic horizon aflame.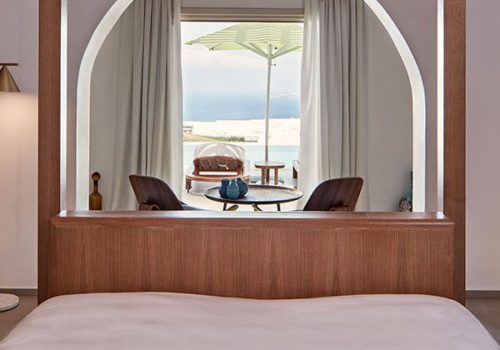 NAIA SUITES WITH PRIVATE POOL
Taking luxury a step beyond, this suite has minimalist elegance achieved in a harmonious combination of natural textures and tones, with cool marble tiles, walls of smooth white plaster against textured stone, brass fittings and beautifully crafted custom-joinery, as well as the finest fabrics. Yet it proves unashamedly maximalist in the svelte extravagance of designer light fittings and furniture, featuring a custom-made four-poster bed footed by a TV that slides away to clear the line of sight onto a terrace with killer views.
The panoramic privilege of a Naia suite cannot be overstated. Upholstered sunbeds recalling the elegance of 1940s cruise liners provide front row seats to a view of the vast Aegean across your private pool, flanked by the beautiful white profile of Mykonos town. High-tech amenities such as soundless air-conditioning, hi-speed WiFi and perfect water pressure are a given, as is the superlative standard of service that considers a guest's every comfort. Tranquillity and relaxation are the order of the day, as is almost anything else you could desire, from in-room spa treatments to all-night room service.
Sounds good? Call our travel experts:
+44 (0)20 7157 1570
More Information
About the Hotel
Boasting adults-only 18 luxury suites that are superbly designed and decorated with panache; an infinity pool touches the rim of the magnificent deck floating over iconic views; the gourmet restaurant with delectable Mediterranean cuisine adds a touch of molecular flair; and a pool bar with genuine international finesse is a point of intersection for the beau monde. Relax in the spa and enjoy a number of treatments on offer with traditional massages and treatments on offer.
Food and Drink
Breakfast area
Square one for a perfect day at Naia is breakfast on the terrace.

Naros Dining
Naros fulfils Naia's promise of blissful indulgence at a sensory level, as foodies of every persuasion will be seduced by the aromas and flavours served up by executive chef Panagiotis Tsoukatos.

Bacos Bar
Bacos is one of the most charming bars on the island, recessed into the deck with beautiful views of the pool and the Aegean.
In-room dining
For those rare evenings when you feel like 'staying home' to catch up on sleep, work or TV entertainment, we offer a delicious in-room menu with something exceptional for everyone's taste, guaranteed to arrive as hot or as chilled as the chef would have it. Whether you wish to arrange for a private and memorable dining experience, or simply enjoy a meal that's not on the menu, a personal chef and his team are always at your disposal, ready to demonstrate their culinary prowess and prepare your favourite dishes in the privacy of your own room or suite.