The Ayada Maldives showcases the pristine majesty of the southern islands. Located amidst a spectacular reef, this luxury resort offers nine accommodation types which blend contemporary with traditional Maldivian and Turkish design that has steered the cultural history of this serene region. Discover the uninhabited neighbouring islands on a private excursion, or go sub-surface during a private diving tour of the undisturbed underwater seascape found around Ayada Maldives. Relax and watch the sunset in a private plunge pool with terrace, direct beach or ocean access with the service of a Butler or Guest Relations Agent available at each of the Water or Seafront villas.
Highlights For Ayada Maldives
Room Options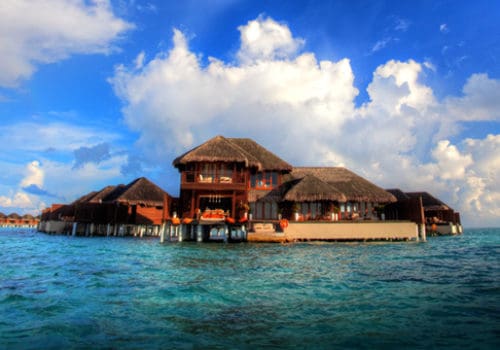 Ayada Royal Ocean Suite
Located on the edge of the jetty, this duplex split level presidential suite is considered an island enclave and offers spacious bedrooms on the ground and upper floors. The lavished upper floor terrace provides an incredible 180 degree view of the oceanic horizon with complete privacy.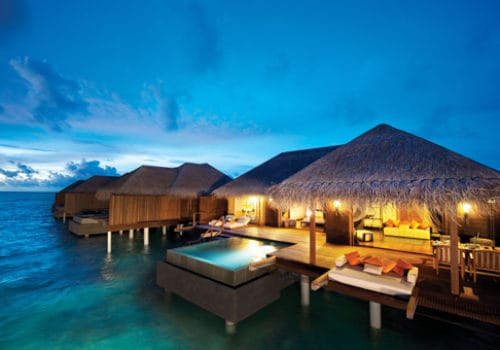 Sunset Ocean Suites
These over-the-water suites offer a master bedroom with private bathroom and a living area with a glass floor panel. A huge sundeck with ocean hammocks and direct access to the lagoon as well as infinite views of the horizon.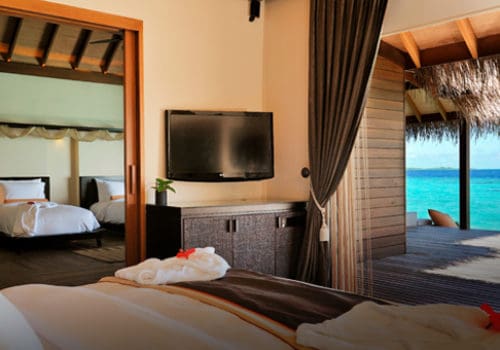 Sunset Ocean Family Suites
Ideal for small groups, these west-facing over-water suites have two bedrooms; one with a glass floor panel and shower room, and the master bedroom with en suite full bathroom with separate tub and shower. Outside is a huge sundeck with dining table, over-water hammock, private pool, sun loungers, daybed and steps into the ocean below.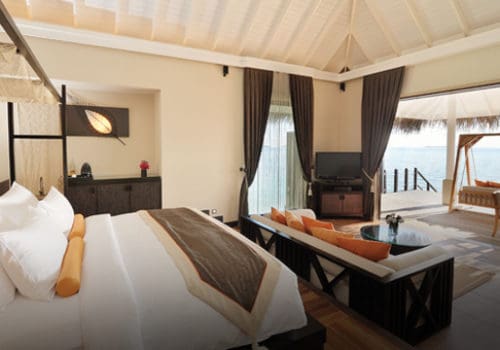 Sunset Lagoon Suites
Resting on the land with the outdoor terrace over the ocean, these suites combine the unique features of both the tropical garden and the magical view on the lagoon. The spacious outdoor terraces offer plush swing sofas, plunge pool to further enhance the tranquil setting and a direct lagoon access.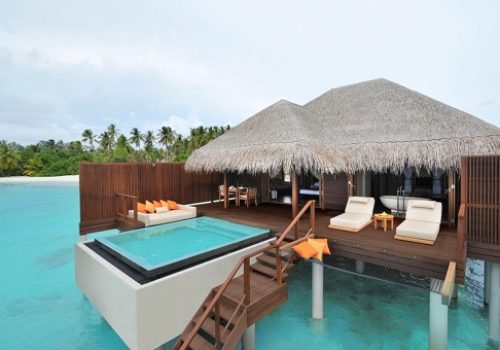 Ocean Villas
Situated over the lagoon, these over-the-water villa allow luxurious lounging on ocean hammocks with the gentle lapping of the waves to soothe you. These spacious villas offer a private outdoor terrace, ocean hammocks, plunge pool, an uninterrupted view of the horizon and direct lagoon access.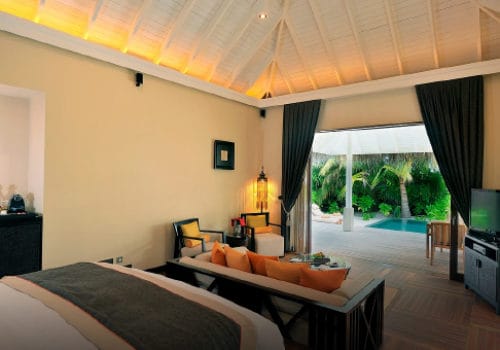 Sunset Beach Suites
Spacious beachfront suites with a large living area, spacious private outdoor terrace, plunge pool and garden area ideal for romantic private dinners with direct beach access.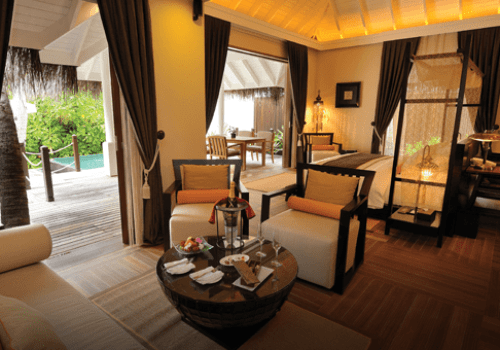 Beach Suites
These interconnecting villas offer a larger bedroom with a spacious living area, that has the advantage of a connecting door with a Beach Villa both from inside and out on the terrace. Each suite offers a private outdoor terrace, plunge pool and direct beach access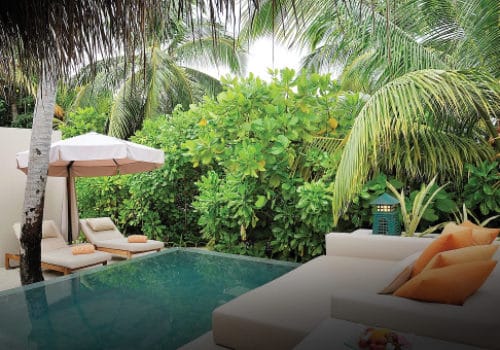 Beach Villas
Located on the idyllic stretches of the white sandy beaches, these beachfront villas offer peaceful relaxation both on the expansive private outdoor and plunge pool that surrounded by lush vegetation, with the beach situated only a few steps away.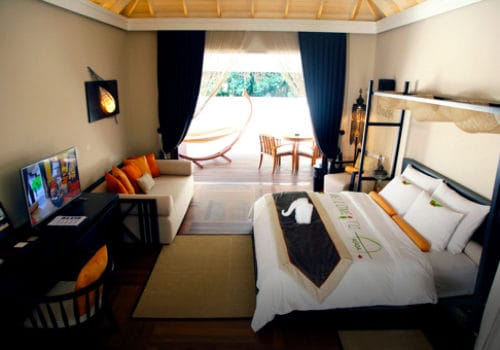 Garden Villas
Nestled in tropical garden, our Garden Villas are the perfect retreat for friends and family looking to reconnect in a stunning, private setting. Garden Villas are furnished with comfort and a relaxing hammock in the garden veranda, with only steps away from all Resort facilities.
Food And Drink
Magu
Magu is Ayada Maldives' main restaurant showcasing a generous international buffet with daily changing themes- for example Far Eastern, Chef's Special, Maldivian, Mexican, Mediterranean or Middle Eastern – ensuring that every night diners enjoy an abundance of variety and flavor.
Kai
An exquisite range of far-eastern and Asian delicacies awaits in this gem of a restaurant hidden away amid tropical greenery.
Ocean Breeze
This stylish restaurant is open for lunch and dinner and offers gourmets a tempting menu of modern European dishes.
Zero Degree
Zero Degree restaurant and bar is where you'll find poolside dining at its finest: a simple yet wide menu of international dishes that addresses all cravings from crisp fresh salads to European, Asian and middle-eastern dishes.
Mizu
The word Teppanyaki is derived from "Teppan" meaning iron hot plate and "Yaki" which means to grill or fry.
Sea Salt
Feel the magic of the Maldives at our mouthwatering beach BBQ held under a carpet of stars where you can feast on freshly grilled meat and seafood.
Ile de Joie
A tiny over-water open-air cheese and wine bar set 100m over the lagoon.
Ottoman Lounge
Ayada Maldives showcases the beauty and unique experience of sipping authentically brewed Turkish coffee and specialty teas in a lounge with low seating, as inspired by a traditional café in Turkey.
Private Dinning 
Ayada Maldives provides private dining experience exclusively for you and your loved one : on the soft sandy beach, on the secluded pagoda, or simply on the deck of your own villa. A private chef and waiter will cater you the perfect evening under the Maldivian stars.