Shangri-La's Villingili Resort & Spa is the biggest luxury resort in the Maldives. It's also one of the best. Shangri-La's Villingili is located on the most southerly atoll in the Maldives, making it a true paradise escape. Its location is so distant and unique it operates in its own time zone.
Villingili Island is two miles long, huge by the standards of a Maldivian island. White sand beaches are surrounded by corals and thick forests. To get to Villingili Island you'll fly from Malé, the capital of the Maldives, to the airport at the nearby island of Gen and get a speedboat from there.
Space can be a little hard to come by in the Maldives and some resorts feel crowded. Here you'll enjoy privacy, wide open spaces and luxury. The Dine by Design experience gives you the chance to dine in an outdoor location of your choice, be it the jungle or on the equator on a luxury yacht.
Highlights
Cost Category: Platinum

Largest resort in the Maldives
Set in its most remote atoll
Set in its own time zone
Luxury overwater villas
More Information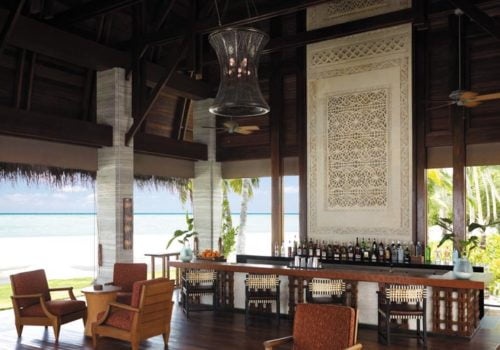 Dining Options
Dr. Ali's serves a range of international cuisine and particularly good curry. On the northern tip of the island you'll find Fashala, where the lagoon meets the ocean. Serving local seafood, it's the perfect setting for a romantic meal. The third restaurant is Javvu. Located on the shoreline, you'll be dining in a stunning al fresco setting.