We specialise in luxury vacations for lesbian and gay travellers. We only work with the most gay-friendly hotels and resorts, so you can travel to far-flung destinations as a lesbian couple, safe in the knowledge that you won't have any awkward situations about your sleeping arrangements. Honeymoons, weddings and romantic getaways are among our specialities. We also send people on gay group trips all over the world, so we can pair you with fellow LGBT+ travellers if you're travelling solo.
The team at Out Of Office are all very well travelled and are there to offer the best lesbian travel advice for your lesbian vacation. For more inspiration, check out our lesbian vacation itineraries. We believe you should always feel safe and comfortable on holiday and the strong relationships we have and build with selected hotels around the world means that you'll be welcomed.
Call our travel experts on
+44 (0)20 7157 1570
Lesbian Honeymoons
Planning a wedding is a huge undertaking. Trying to fit the honeymoon in makes the process even more intricate, and it can start to feel overwhelming. We've sent lesbian couples on dream honeymoons all over the world and organised many picture-perfect weddings. Booking through Out Of Office means you'll have access to an LGBT+ travel concierge throughout the process. We can take most of the stress away and give you the space to enjoy your wedding and honeymoon.
We organise weddings in the most lesbian-friendly destinations, like Mexico and South Africa. You can have a full legal wedding ceremony in either country, whether you're a lesbian or straight couple. We can also organise weddings in the Maldives, one of the world's top luxury destinations. How, you may wonder, could a gay couple marry in a country governed under Sharia law? The resorts of the Maldives are privately owned fiefdoms and the normal rules don't apply. You can't get a full legal ceremony in the Maldives but you can have a commitment ceremony. That means you'd need to get married legally at home, but then you can enjoy a commitment ceremony on a beach in a tropical paradise.
One of our most popular honeymoon itineraries twins South Africa with Mauritius. South Africa is such a versatile destination. Cape Town is the de facto gay capital of Africa. It's packed with luxury hotels, stunning beaches and great nightlife. You can ascend Table Mountain and enjoy one of the finest views in the world. You can then head to the Winelands if you love wine as much as we do. Naturally, no trip to South Africa is complete without going on a safari. With all those boxes ticked you can then fly to Mauritius from Johannesburg and unwind in a romantic hotel like Sugar Beach.
We have a page dedicated to the best lesbian honeymoons, so be sure to check that out for more detail.
Booking with Out Of Office
24-hour concierge service
We work with the most gay-friendly hotels, even in the less gay-friendly countries
Experts in organizing honeymoons and weddings
We can tailor-make any trip to hundreds of global destinations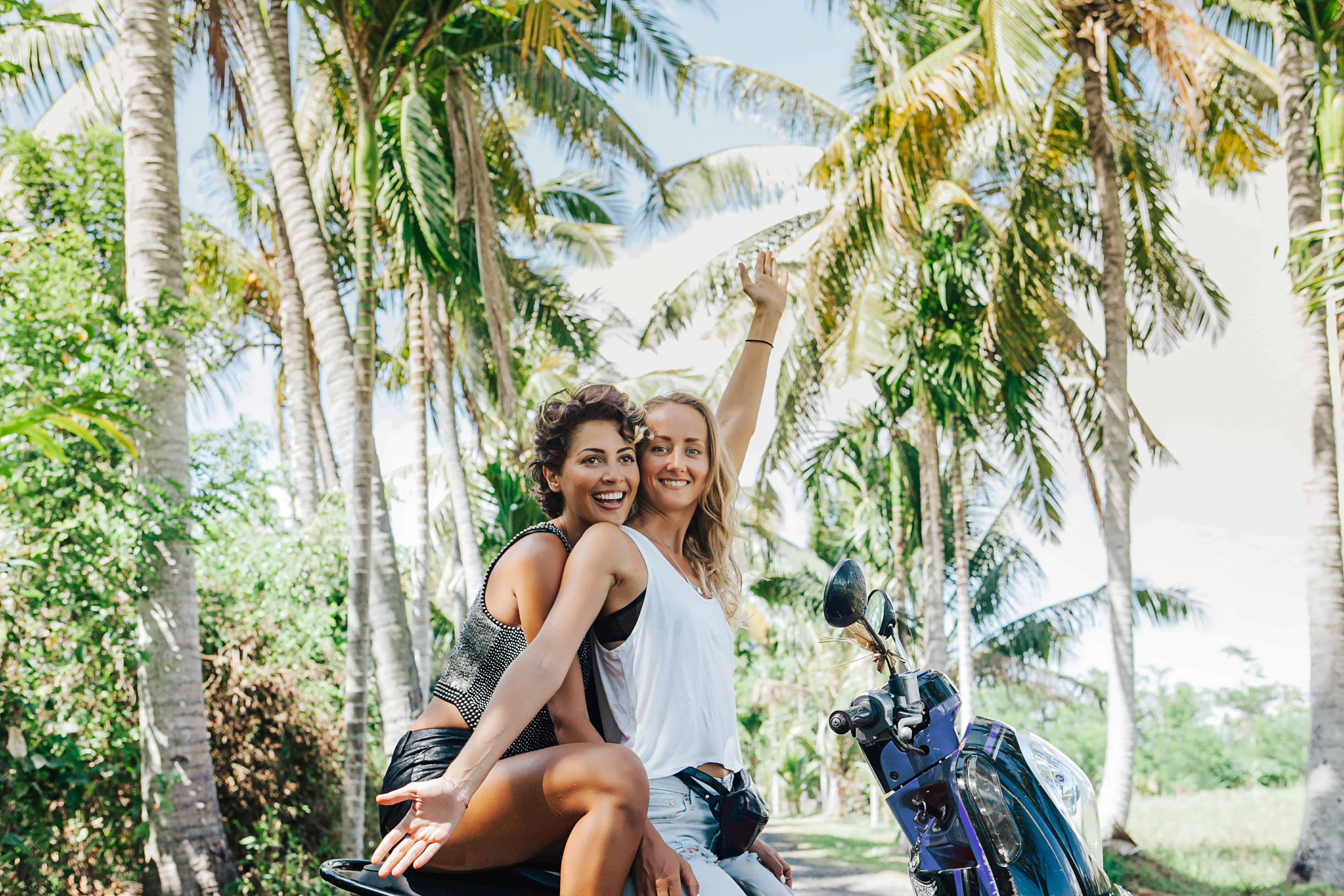 Lesbian Vacations
A quaint town just 40-minutes on the train from Barcelona, Sitges is one of the best destinations for lesbian travellers in Europe. It's so gay-friendly that LGBT+ people are very much in the majority during peak season. It's a great place to unwind in the sun. If you want a culture fix, Barcelona is just down the road.
The Greeks islands have long been popular for gay and lesbian travellers. After all, the word "lesbian" derives from the island of Lesbos – the birthplace of the poet Sappho, from whom we get the word "sapphic." Her writing offers the oldest surviving account of lesbian romance. The islands of Santorini and Mykonos are also very popular.
Any excuse to take a trip to New York is very welcome. It's probably the most iconic city in the world, as it's been referenced so many times in popular culture. It's also, needless to say, very welcoming to gay and lesbian travellers.
Maimi is a big brash city with fabulous beaches. The island of Key West is one of the most remote destinations in the USA. It's also one of the most gay-friendly. Key West is a haven for artists too. Ernest Hemingway and queer playwright Tennessee Williams drew much inspiration from Key West.
Thailand is the unofficial gay capital of Asia, although it was pipped to the post by Taiwain (which became the first country in Asia to legalise gay marriage). Bangkok is a huge city with a pretty wild gay scene. You'll also find many gay and lesbian-popular destination in the Thai islands. Don't miss cultural highlights like Ayuthaya, the country's former capital.
Amsterdam is so liberal you can do almost anything there and get away with it! It was the first country to introduce same-sex marriage. Amsterdam is a charming city for a romantic trip. It's also a great place to party.

Best Ideas For Lesbian Vacations