Hawaii is an excellent choice for gay honeymoons. It's the 50th US state and a perennial favourite for American travellers. There are eight islands in the Hawaiian archipelago, six of which can be visited. Each Hawaiian island has its own unique charms. Hawaii is very much geared towards tourism. It's also a year-round destination.
You'll find many beautiful beaches to explore, making a beach wedding a great choice. You can have a legal wedding ceremony in Hawaii or opt for a symbolic commitment ceremony. Hawaii has long been considered a romantic destination. It's American's only island state and it's a historic hub of Polynesian culture. Hawaii was "discovered" by Captain James Cook.
The tropical landscapes of Hawaii must be seen at least once in a lifetime. It's one of the wealthiest US states. The vast US Pacific Fleet is stationed in Hawaii. Combining your wedding and honeymoon in Hawaii is a popular choice.
Recommended reading
Best gay honeymoon destinations 2021/2022
Featured Hawaii Trips
USA

From 7 days - Tailor-made from

£2865

What better way than to tie the knot on the beautiful island of Maui in Hawaii? With Out Of Office, we will tailor your wedding according to your requirements. Celebrate your nuptials on beautiful Poolenalea Beach, a secluded location, in...

View Itinerary

USA

From 13 days - Tailor-made from

£3375

This incredible trip allows you to explore some of the wonderful Hawaiian islands including Honolulu and Kauai. Discover the individual charm of each island and immerse yourself in the culture. Head on a Volcano National Park Twilight Tour, a catamaran...

View Itinerary

USA

From 8 days - Tailor-made from

£1345

With our twin-centre itinerary to Miami and Key West, you're sure to find the perfect American combination of sun, beaches and relaxation. Spend three nights in Miami before driving south to the tropical Florida Keys where you'll stay in beautiful...

View Itinerary
Gay Weddings & Honeymoons in Hawaii
Having a legal gay wedding ceremony in Hawaii can be done with few hurdles. In some countries, a minimum stay is required, along with various bureaucratic complications. In Hawaii, you can get married with no witnesses and no time limitations.
We can relieve you of all the pressure and arrange your Hawaii Marriage License, organise the Officiate/Minister and arrange a wedding consultant. We can also arrange hair and beauty, hotels, dining and everything else. We've arranged many gay weddings in Hawaii and we work very closely with our contacts on the ground to make it as seamless as possible. You just have to show and enjoy the experience.
Naturally, the islands that make up Hawaii make for a great honeymoon destination. You can indulge in a bit of island-hopping and see the best Hawaii has to offer.
Why Hawaii?
America's only island state
World-class beaches
Ideal for honeymoons/couples trips
Have a full legal wedding
Combine your wedding and honeymoon in Hawaii
Browse Itineraries
Things To Do In Hawaii
Hawaii's biggest island is called Big Island – easy to remember. Maui, Oahu and Kauai are the most visited islands. If you like to stay busy there are endless opportunities for water sports in Hawaii. Try your hand at wakeboarding, parasailing and jet-skiing. You can even opt for sky diving if you're feeling brave. There are many hikes you can take through the lush tropical landscapes.
On Big Island, you can sail around on the lockout for dolphins and sea turtles. Swim with manta rays and visit Kilauea, the volcano. Over Kauai, you'll find stunning beaches and mountains to explore. Be sure to check out the sunsets, especially from Haleakala Crater. History buffs will no doubt want to visit Pearl Harbour, and see the sight of the bombing that forced America into WW2.
As Hawaii is so geared towards tourism, you'll find many excellent hotels to choose from. The Royal Hawaiian is famed as a pink palace. It's certainly the most Instagramable hotel in Hawaii. Travaasa Hana is also a great choice, boasting hidden beaches and ocean bungalows. It's surrounded by rainforest.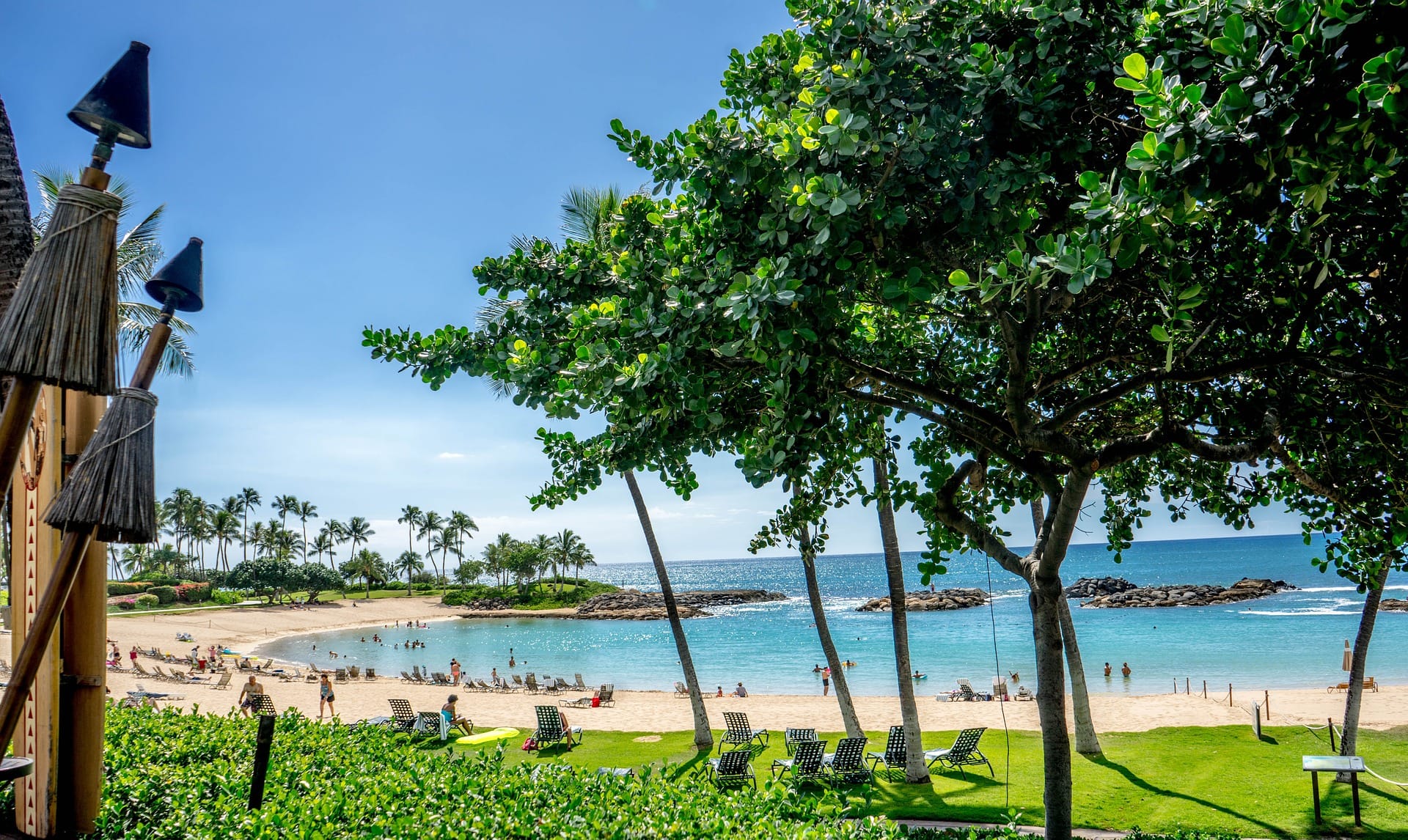 The Most Romantic Hotels in the USA