The USA is one of the best destinations on earth for a gay honeymoon. Naturally, the United States is a vast country so the kind of honeymoon experiences you can have are very varied. From the bright lights of New York City to the desert oasis of Palm Springs, you can opt for a vast city or a more remote destination.
We also work closely with many ranches, retreats and luxury hotels that offer a wide range of honeymoon perks. The hotel you choose will be key to making your honeymoon an unforgettable experience. You can also opt for a twin-center itinerary, such as LA and Palm Springs or Miami and Key West. A gay honeymoon in Hawaii is also a great choice. Combining your gay wedding and gay honeymoon in the USA could be a great option or thinking about a gay retreat in the USA is also another great idea. Let's explore some of the highlights.

Call our travel experts on
+44 (0)20 7157 1570
Recommended reading
Best gay honeymoon destinations 2022/2023
Gay Honeymoons In the USA
USA

From 8 days - Tailor-made from

£2500

This is your chance to experience America's most iconic cities, New York and Washington DC. New York is arguably the most exciting city in the world. It's certainly the most recognisable as it's been the setting for so many famous...

View Itinerary

USA

From 8 days - Tailor-made from

£1345

With our twin-centre itinerary to Miami and Key West, you're sure to find the perfect American combination of sun, beaches and relaxation. Spend three nights in Miami before driving south to the tropical Florida Keys where you'll stay in beautiful...

View Itinerary

USA

From 10 days - Tailor-made from

£1359

Discover the canyons of Nevada, Arizona and Utah alongside the bright lights of Las Vegas in this 10-day self-drive itinerary. Starting and finishing in Sin City, you'll have the opportunity to see both the Grand Canyon and Bryce Canyon as...

View Itinerary
Gay Honeymoons In the USA
New York is a hugely popular honeymoon destination. It has everything you could possibly want, from the best hotels to the best nightlife. It's a great choice if you'd like a more action-packed honeymoon.  So many romantic movies and TV shows have been filmed in New York, giving it a mystique few cities can match. You'll have to ride in a carriage through Central Park like Carrie and Mr Big!
Key West is located in one of the most remote parts of the USA. It's long been a gay-popular destination and it's a great choice for honeymoons. You can begin in Miami and then explore the Florida Keys, including the ever-glamorous Everglades. Key West will be a great final destination. It has great boutique hotels decked out in the charming and unique Floribbean style the island is known for.
Combining LA with Palm Springs makes for a great twin-centre itinerary, especially for a gay honeymoon in the USA. LA is, of course, one of the most exciting cities in the world. You could stay at a historic hotel like the Chateau Marmont, a favorite haunt of Holywood royalty. Palm Springs is a favored getaway for Holywood types and gay people. The population of West Hollywood is estimated to be 40% LGBTQ and over in Palm Springs it's over 50% LGBTQ – you'll struggle to find more gay-popular destinations for your honeymoon.
Why the USA?
You can have any conceivable type of honeymoon
It's home to some of the best gay scenes on earth
Great destination to combine both your wedding and honeymoon
You could ride in a carriage through Central Park like Carrie and Mr Big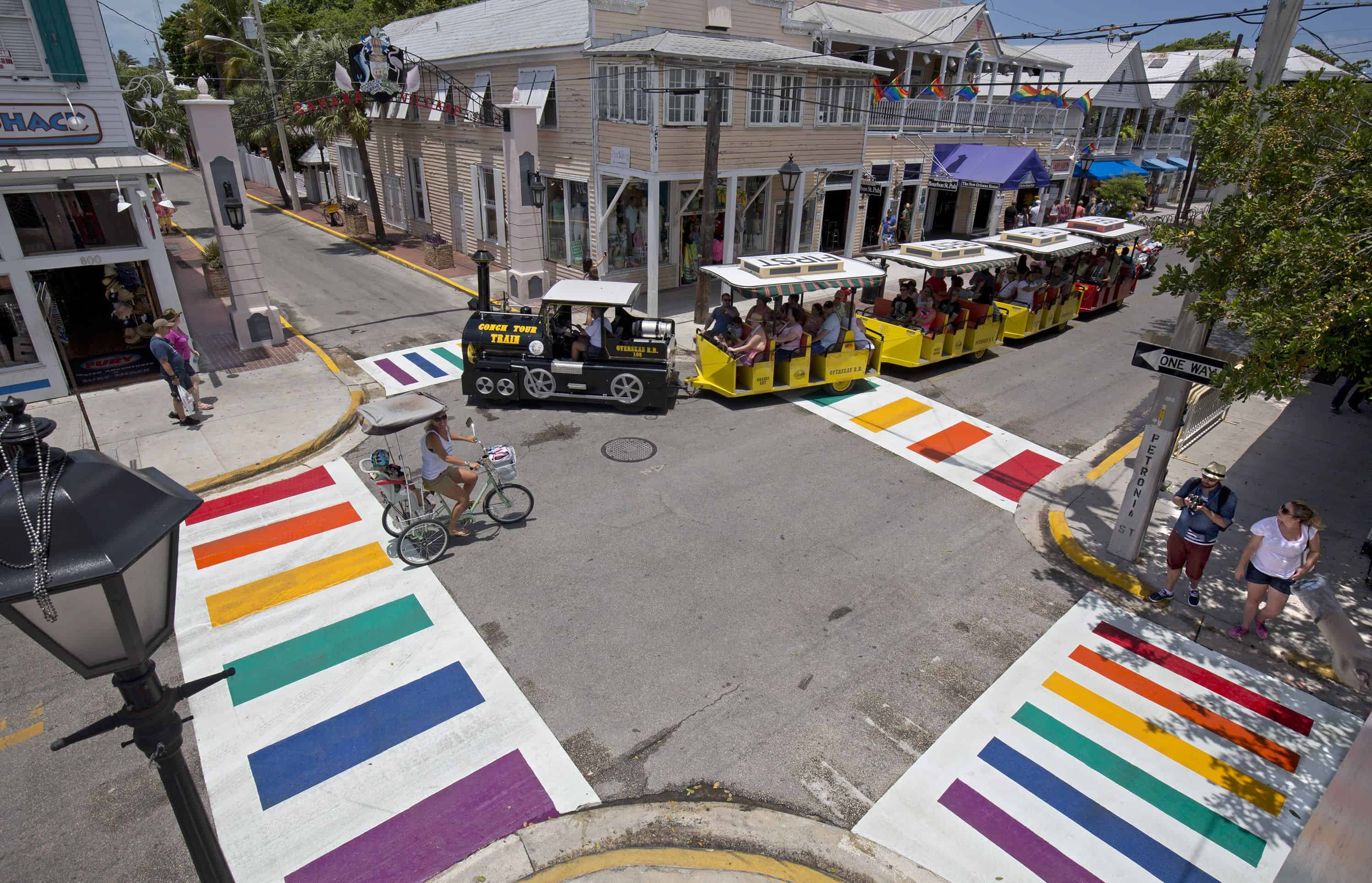 Browse Itineraries
The Best Hotels for a Gay Honeymoon in the USA
Picking the right hotel is the key to making a trip work, especially for your honeymoon. The USA is home to many great hotels for gay honeymoons. A great choice for a gay honeymoon in New York is The Pierre. It takes luxury to the next level. The Pierre is just around the corner from the Rockefeller Centre, you can dine at its famous Rotunda, and it's one of the last hotels in New York to still have lift attendants. Another great choice for gay travellers in New York is The New York EDITION.
If you stay in LA then you could consider the Chateau Marmont. If you like your hotels to have a bit of history, then this one is unbeatable. It's a byword for Hollywood glamour and bohemia. It's hosted everyone from Garbo to De Niro.
Supposing you'd like to get out of the big city, San Ysidro Ranch is located in Montecito, Santa Barbra. It's where JFK and Jackie had their honeymoon, so you'd be joining a very illustrious lineage!
Why the USA
There's a vast array of world-class hotels to choose from
Combine multiple destinations
America is home to so many romantic landscapes